The estimated price of bottled water
User Submitted Ratings for Cairo Tap Water
Drinking Water Pollution and Inaccessibility

60% High

Water Pollution

74% High

Drinking Water Quality and Accessibility

40% Moderate

Water Quality

26% Low
The above data is comprised of subjective, user submitted opinions about the water quality and pollution in Cairo, measured on a scale from 0% (lowest) to 100% (highest).
Can You Drink Tap Water in Cairo?
No, tap water is not drinkable.
According to WHO data, 99% of Egypt cities/towns and rural areas have access to improved water sources, that are available when needed.
Tap water in Cairo, Egypt is not safe to drink. According to the Holding Company for Water and Wastewater, water left their treatment plant is safe for drinking. Quality control adheres to the World Health Organization standard and also monitored by the health ministry. Water received contaminants when it's on its way to our household.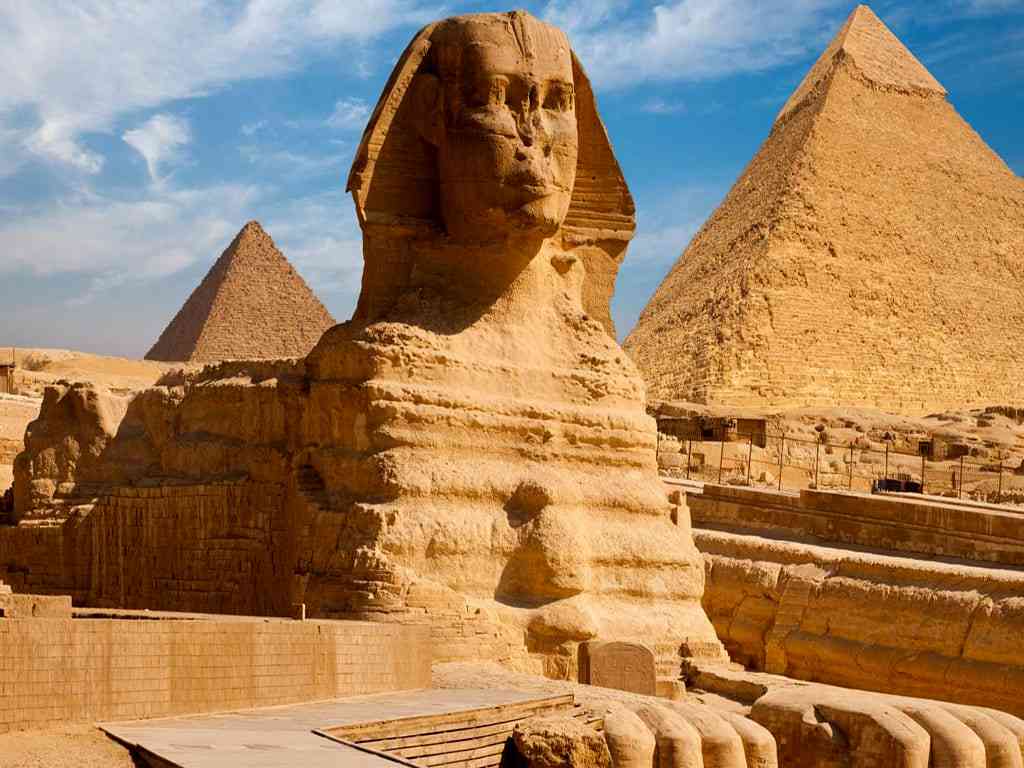 Just like ordinary cities, the problem with the water occurs when it travels from the treatment plant to your tap. Researches show that as much as 35 percent of Egypt's residential water supply leaks into the ground, which says a big deal about the deterioration of city pipes.
Base on the taste, the water in Cairo, use more chlorine than the usual city. The water is hard, and as per taste, you may boil or keep it in the fridge for a few hours to lessen the chlorine taste. For a sensitive stomach, we recommend bottled water to avoid upsetting your tummy.
Source of Water in Cairo, Egypt
The Nile River is the number one source of tap water in Cairo and the whole of Egypt. The river provides 56.8 billion cubic meters of freshwater every year, which serves 97% of all renewable water sources in Egypt. The estimated rainfall in Egypt is at 18 mm or 1.8 billion m³ per year. Furthermore, Egypt has four different groundwater aquifers:
Nile Aquifer
Nubian Sandstone Aquifer
Moghra Aquifer
Coastal Aquifer
Egypt had 374 local wastewater treatment plants in 2012, handling an average of 10.1 million cubic meters per day. The size of Egypt's wastewater treatment plants was more than 11 million cubic meters per day, serving more than 18 million people.
Cairo Tap Water
Cairo tap water is considered to be a "dirtier" version of what most cities throughout the world use. The Egyptian government has been using filters to purify the water supply in Cairo for some time. Recently the media has begun reporting that the quality of the tap water in Cairo is poor and sometimes contaminated with deadly viruses such as SARS and HIV. The head of the municipal water treatment facility in Cairo stated that the number of cases of these viruses had risen dramatically within the past year, which could mean the increased use of chlorine disinfection.
This is unfortunate, but likely, a large portion of the water on Cairo's streets is clean enough to drink but still contains many bacteria and viruses. This water is brought to the treatment plant in bottled form. The facilities are under strict orders not to allow the water on the streets to touch any other bottles or containers. They also say that they will only release the purified water from the plant into the Nile River.
If you have an emergency or are traveling to Egypt, make sure you carry bottled water along. It may seem like a hassle at first, but you will be glad to have it when you experience problems and issues associated with the Cairo tap water. Besides, consider carrying an umbrella, as the Cairo climate can get quite extreme at times. Be sure to stay hydrated!
Cairo Drinking Water
Cairo is a city that is home to many ancient wonders; one of the most famous is the Pyramids of Giza. To get to these magnificent buildings, you must take a boat ride over the river Nile. This is a fascinating part of the vacation because you will see the Pyramids from a new perspective. Once you are in Cairo, visiting these great sites and the many cathedrals, temples and mosques will not be a dream because they are right there in plain sight. The Coptic Church of the Holy Sepulcher and the Coptic Temple of the Golden Monastery are two of the most important sites, especially for Catholics.
The water from the Nile should never be consumed, and it is illegal to do so anyway, but if you live in an area where this is the case, you can use a purifier. There are a few good ones on the market, and you have to decide which one best suits your needs and budget. This type of water purifier produces excellent tasting clean water from all the Nile River tap sources, including faucets, showers, and toilets. The cost varies depending on the features offered and the brand name. My recommendation is to get one with a filtering system and an ion exchange system because I have used them personally and work very well together.
You can also purchase an eLuxury Water Purifier, this is a newer model on the market, and it uses carbon filtration and ion exchange to produce clean, delicious drinking water. It costs about the same as other purifiers, and it comes with a handy storage container for instant fresh water. If you live in an area where city water is treated, you might be able to use a home purifier. For those who can't afford bottled water or filtered water, we can always use store-bought brands. Cairo is a great place to go on vacation, several hotels offer filtered water, and it is more convenient than traveling outside and carrying bottles of water everywhere you go.
Cairo Water Treatment Plants
Cairo water treatment plants are essential for the citizens of Cairo and the surrounding areas. As it is known, the Cairo metro is the primary mode of transport in the city, but it does not stop at that as the primary source of drinking water is through borehole wells or underground water storage tanks. It takes a lot of effort from the authorities to maintain all these water supply pipelines. Besides, many other major water treatment plants in Egypt, such as Alexandria, Hurghada, Quseir, Luxor, Dahab, Khan el Khalili, and Fustat, serve Cairo and the surrounding residents' areas with safe and clean drinking water.
Cairo water treatment plants have many responsibilities to fulfill, like providing clean drinking water to Cairo and the surrounding areas. They also undertake the task of delivering fresh water to the various outlying rural areas. These days, there is an increasing problem of water scarcity in Egypt. The authorities and residents are concentrating more on using advanced techniques for purifying water and ensuring that the residents have access to clean drinking water. The borehole wells are the latest advances that have been made in the field of water treatment. These water tanks are dug into the ground. The process of extracting water from the underground water is done very quickly by the Cairo water treatment plants and even more so by the private companies which provide water filtering systems for homes and offices.
These water treatment plants have installed very advanced filters that can remove almost ninety percent of all the water's impurities. The filters ensure that the water is free from harmful bacteria or viruses that can be harmful to health. Apart from this, if a sudden power cut in the area where the water tank is located, the water supply will come down because the pipes will become clogged, and the entire process will be repeated. If you want to avoid all this hassle, you can get your water supply via bottled water as the bottled water will be treated, sterilized, and stored at the water treatment plants. The treatment plants will then sell off the used water to the shops and restaurants. However, if you want to ensure your family's safety, you can opt for a well-stocked water tank to not have to worry about water supply even during emergencies.
Water in Cairo
Cairo, the largest city of Egypt, is home to many historical landmarks and has a skyline that is more than just a landmark. With water being supplied to most parts of the city, it has become a popular option for travelers who want to stay in style and have a luxurious stay in one of the most modern cities in the world. One reason tourists love to stay in Cairo is to get a hot water shower in their hotel room, making them feel highly pampered. Hot water showers in Cairo are also common in luxury hotels, especially on the city's Nile side.
Another reason tourists stay in Cairo is that Egypt is known as an arid and windy country, meaning that most cities receive a lot of rainfall, which makes the soil fertile and full of water. Therefore, when you take a hot water shower in your hotel room, you will be able to see firsthand just how great the state of the soil is. Most hotels offer this service, including those located along the Nile River, so you will not need to travel out of your hotel to get this luxury.
Tourists enjoy the benefits of water showers in Cairo, but they can also benefit from the luxuries of other hotels located in the city. Luxury hotels can provide guests with a steam bath, which will allow you to relieve stress and muscle tensions after a long day of traveling. You will feel rejuvenated after taking a hot water shower in your hotel room, and you will find that you cannot wait to return to your regular life every day.
Cairo Water Quality
Cairo water quality is good to some extent. The city, though, is facing severe threats that the quality of its water can not guarantee. Drought and waterlogging due to evaporation have affected many areas of the city. Moreover, the lack of available storage tanks for holding treated sewage has worsened the situation. In such conditions, only state-of-the-art water treatment plants can ensure clean drinking water for all citizens.
Cairo has two primary water supply plants, including the wastewater treatment plant (WTP) and the city's primary water carrier, the Nile water pipeline (MWP). Both are required to discharge treated sewage in the sewer lines. However, the deteriorating conditions at the WTP have led to an increase in its load. The increased load has resulted in flooding at times. At present, the MMP also faces problems of inadequate treatment capacity as compared to the former.
For all these reasons, Cairo's water quality continues to remain poor. Only, it does not look like it will improve soon. It is being predicted that it will get worst. What's more, these disasters' effects can lead to adverse health effects is another solution to this problem – boiling your water.
Cairo Bottled Water
Cairo is home to many famous and world-famous landmarks and one of the most critical Middle East cities. This is one of the main reasons why a lot of people prefer to buy bottled water. Cairo is also very famous for having some of the best food in the world, which is why many people prefer to get fresh and delicious water to quench their thirst. There are a lot of different options when it comes to acquiring bottled water in Cairo. Here are some of them.
One of the best options when it comes to getting bottled water is through distribution companies. These companies will bring the water straight to your residence or office, and this way, you do not have to worry about going to the supermarket and buying water. You can have as much as you need whenever you feel thirsty, and you do not have to pay a single cent for drinking it. You can either get it in glass bottles or bottle tops, depending on your preference. The downside to using this kind of service is that the water might be stale or otherwise bad when you get it from such companies.
Another option is to get a water cooler. There are many coolers available in the market today, and all you have to do is find the one that suits your needs and budget. Most of them come with special dispensers where you can keep your cold water, and it looks just like a regular refrigerator. The good thing about these coolers is that they have a thermostat that you can use to make sure that the water stays chilled, which is very important if you want to avoid diseases. Cairo bottled water is straightforward to find, and you should never have any problems finding one.
Cairo Safe to Drink Water
Cairo is one of Egypt's oldest cities and is well renowned as the commercial and cultural capital of Egypt. One of the most famous sights in the city is Giza's Pyramids, a considerable number of ancient buildings still standing today. The Nile River washes through much of the town, and most of the tap water in Cairo is treated in a municipal treatment plant. Cairo's population comprises different religious groups, with the Catholics making up the enormous numbers, followed by Muslims, who form the next largest group. Cairo has seen times when there have been violent outbreaks in the city, mostly in tourism and directly affecting the tourists.
There have been many studies over the years regarding the quality of the water around Cairo. The most recent studies have found that Cairo is safe to drink water, but the quality is not the best and could be easily affected by outside influences. This was brought home to me as I stayed in an area where there were some significant clashes between locals and tourists. The residents did not want us drinking their water, and we were all forced to drink bottled water in the resort town. It might be a bit of an exaggeration to say that Cairo is safe to drink water, but I will say that it is clean water and there are no indications of pollution in the city whatsoever.
My advice is to stick to wells where you are sure that the water coming through is safe. If you are a traveler, you should make sure that you carry bottled water with you, just when you encounter a problem. Cairo is not like other cities, where you can wait for the water to be treated before you drink it. You never know when it will get contaminated or what other germs or viruses it could contain.
Cairo Wastewater
The Cairo wastewater treatment plant is the sole receiving and treatable water supply for Cairo's metropolitan area. The wastewater from the city's sewage treatment plant travels through miles of sewage pipes to its final venting point at a dry dock for processing. Before it can enter the city's wastewater treatment plant, it must go through various treatment levels to ensure that the sewage does not contain harmful contaminants such as heavy metals, bacteria, or viruses. Once in the treatment plant, the wastewater is free to travel throughout the city.
The primary sources of wastewater in Cairo include storm drainage from rooftops and parking lots. Sewage spills are often a problem during the summer, as the streets become clogged with wastewater from vehicle tires, oil containers, and other human waste materials. Cleanup efforts by local governments and businesses usually consist of cleaning the affected areas and repairing leaking infrastructure. Most wastewater is cleaned using low-pressure sprays and treated with chlorine, biocides, and UV light to kill bacteria and ensure clean water for later usage. Outbreaks of severe black mold or mildew in public sewage treatment plants are often attributed to improperly treated sewage.
Cairo is gradually becoming an advanced sewage treatment stage, having achieved first-class treatment for its sewage. However, despite this progress, there is still an enormous potential for this wastewater processing industry's growth. A recent article in the Egyptian newspaper, Al-Ahram, reported that the Cairo wastewater treatment plant's chief executive had predicted that more than one million cubic meters of wastewater could be generated in the next decade. With the current volume of sewage production, this estimate is way lower than what is needed to meet Cairo's demand for clean drinking water. The article suggested that if current wastewater projects were expanded at the same pace as the sewage industry grows, millions of cubic meters of wastewater would be generated each year.
Nile River
The Nile River cruises are some of the most exciting cruises in Egypt. It is an ancient river, which rises and falls in the Red Sea. Many tourists visit Egypt each year to see the many attractions, including the Pyramids, Giza, and the Great Sphinx, but there is much more to discover in this beautiful country. These cruises will take you into the heart of the desert and give you an up-close and personal look at life in Cairo and other famous Egyptian cities. One of these river cruise boats will take you on a journey through the delta, where the river waters originate.
The Nile River is a sizeable north-flowing river within the Middle East. The Nile is among the oldest known rivers in the world. It's also one of the most important as it provides water and food for millions of people every year. The Nile is the largest river in Egypt and traverses through southern Egypt and into Sudan's southern region. The Nile River is the most crucial inland river for the Egyptian economy. The Nile River serves as the primary source of fresh drinking water and the natural habitat for wild animals such as crocodiles.
Tour guides can take visitors on three-day Nile cruises starting in the Northern part of Egypt, which will travel through several of Egypt's historical landmarks and sites. After visiting the ancient monuments and landmarks along the Nile, cruisers will head towards the Nile River's southernmost edge, where it flows into the Arabian Desert. A Nile riverboat cruise allows visitors to witness the beauty of the southernmost portions of the river and, at the same time, explore the wealth of the Nile delta. After visiting all of the main sites, including the Cairo Museum, the Egyptian Museum, the Great Sphinx of Giza, the Luxor temple, and the Nahalu resort, visitors are encouraged to spend a few days relaxing on a sunbed and wander the desert-like camels through the desert.
Other links:
Wikitravel
For health reasons it is advisable not to drink tap water or eat unpeeled fresh fruits and vegetables -- at least for the first few days of the visit. There are few solely vegetarian options, L'aubergine in Zamalek is a good restaurant for vegetarian food. Otherwise, Egyptian cuisine is dominated by vegetable courses, but be aware of "hidden" meat in stock, sauces and the like. One should also be cautious about sushis( slushees?) or ice creams sold outside of main hotels. Also, if served eggs, one should be cautious to ensure that they are fully cooked (sunny side up eggs may allow certain organisms to be transmitted).
A health reminder Use extra care if you choose to consume beverages from fruit stalls. In general, food handling procedures are not up to Western food sanitation standards. It should also be noted that some vendors mix their fruit juices with less-than-perfect tap-water.
As elsewhere in Egypt, be careful with what you eat. Raw leafy vegetables, egg-based dressings like mayonnaise and minced meat are particularly risky. Avoid cold salads and puddings from buffets even in the 5* hotels just to be on the safe side.Opinions on tap water vary, but most visitors choose to stick to the bottled stuff. Large bottles of water can be purchased for 6-7 LE. Avoid ice in drinks, and only eat fruit with a skin you can wash or peel.You may find that tummy medications you bring from home simply don't work.All visitors would do well to buy from any pharmacy Egyptian brand drugs. The best and most common being Entocid and Antinal. Diarrhea and vomiting can almost always be stopped by taking 2 of these tablets with a glass of water in a few hours.If symptoms persist, it is wise to consult a doctor as dehydration in Summer can come on quickly.