Our Top Pick
Our Top Product Picks
1
OUR TOP PICK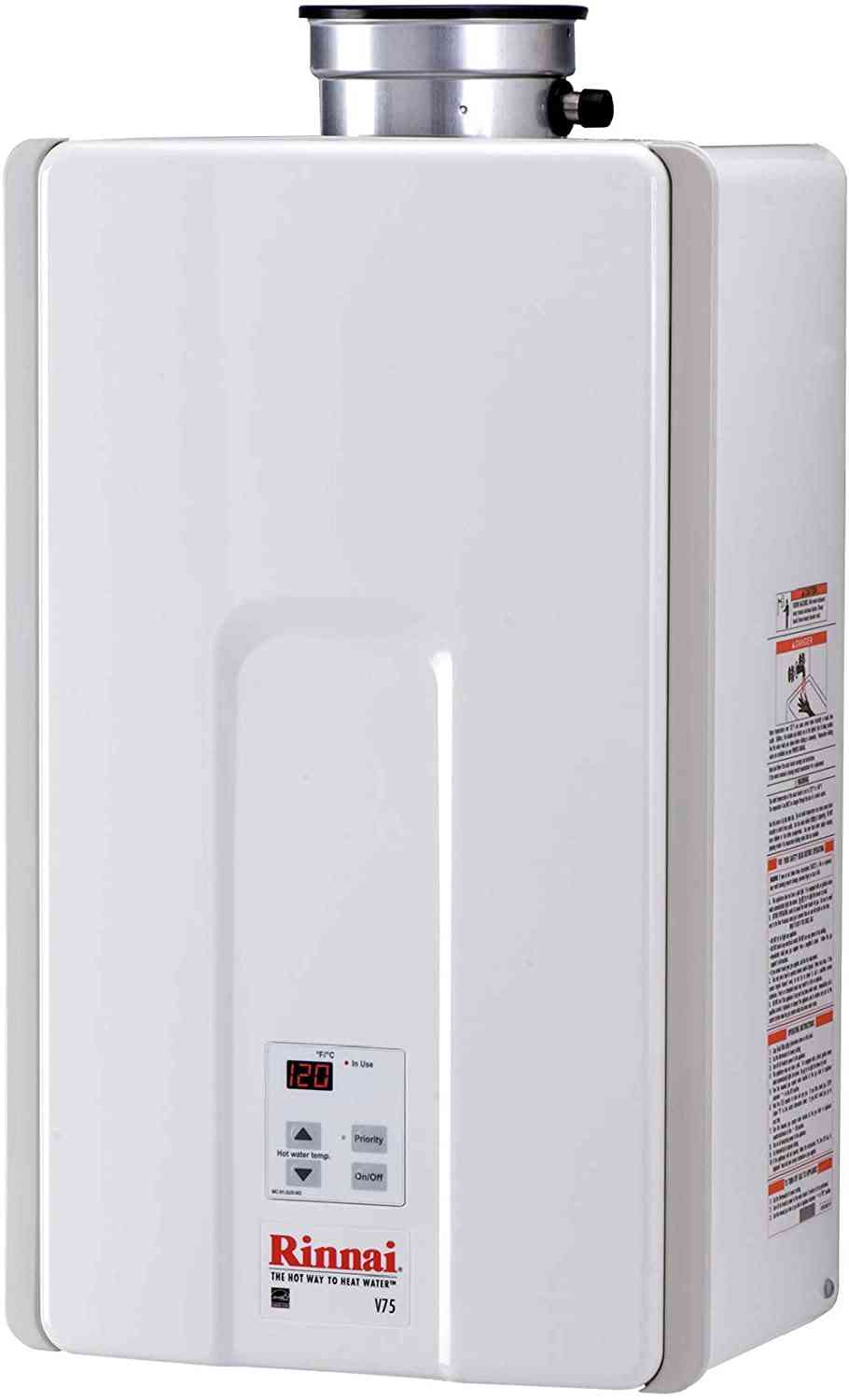 Rinnai V75IN Indoor Tankless Hot Water Heater
When it comes to gas tankless water heaters, Rinnai is a name that's well known worldwide. The V75IN indoor tankless hot water heater is a compact and portable unit that's made with the modern homeowner in mind. With a 7.5 GPM hot water flow rate, this is one model that you won't want to miss out on.
Check Price at Amazon
Pros
Ergonomic and lightweight build

Easy to install and maintain

Works in any domestic or even commercial setting

Powerful operation

Extra focus on safety
What Could've Been Better?
The one gripe that many customers have about the V75IN is that it's a bit too pricey. The unit's price, together with the cost of getting it installed, can become prohibitive if you're operating on a tight budget.
However, as we've already mentioned before, tankless water heaters cost higher initially. But since they pay for themselves many times over in terms of utility bills, we don't think anyone should pass over this unit for saving a few extra bucks in the short term.
Another thing that you should be careful about is the packaging. Many customers have complained that the product comes poorly packed, which might lead to damage in transit. So, make sure you're receiving a well-packed unit when taking the delivery.
Why Buy This Product?
1. Highly Ergonomic Design
One look at this device, and you'll be able to tell that the company has put enough research behind it. It has a compact size of just 14 x 9 x 27 inches and is ideal for smaller and mid-sized homes that are low on space.
The compact dimensions are a direct result of a closed combustion system and a concentric venting system. Due to the compact size, it can also be used in any commercial space. Unlike water heaters with tanks, it is relatively inconspicuous and can be tucked into any corner. Plus, the cool white look also adds to its aesthetic appeal.
2. Power-packed Performance
If you're thinking that the small size of the device means a compromise on power, then you're sorely mistaken! Even when used regularly, this tankless heater is sure to deliver a powerful performance. With an output rating of 180,000 BTUs and a flow rate of 7.5 GPM, this is a powerful system in a neat little package.
The high heating capacity ensures that it can take care of all your home's hot water needs, with more to spare. The device's energy factor of 0.82 provides optimized performance, and the temperature range of 98 to 140 degrees Fahrenheit allows you to choose any temperature as per your needs.
3. Low-maintenance Product
The next aspect that we'd like to highlight is the low maintenance and easy installation capacity of this unit. Rinnai uses concentric direct venting for this model, which allows it to be easily installed even in closed spaces.
Simultaneously, we like how it comes with a detailed instructions manual that further helps in the installation. Add to that the ten years warranty on the heat exchanger and five years on the parts, and you've got a device that's virtually maintenance-free.
4. Advanced Safety Features
In terms of safety, the V75IN includes a scale control system that prevents damage due to scale accumulation. It also has a temperature lock that controls the level of hot water that's produced.
Further, the device comes with a frost protector that ensures that the water in the pipes doesn't damage it. It also includes an electronic ignition mechanism that saves energy and improves the device's efficiency.
5. Environment Friendly And Versatile
This tankless heater runs on propane as well as natural gas and helps to minimize pollution. The anti-pollution property is further enhanced by the integrated eco-gas burner provided by Rinnai. It ensures lower levels of NOx, thus further protecting the environment.
Finally, its versatility is unmatched, as it can be used in manufactured as well as mobile homes with ease. Add to that the fact that it can operate at altitudes of over 10,000 feet, and you've got a tankless water heater that you can use under any conditions.