With growing pollution, water filters are a necessity in every household. But not all of us have a huge living space to store bulky filters.
So, how can we enjoy safe drinking water without compromising on space? Tabletop and wall-mounted filters are completely out of the picture, considering their size and space requirements.
That's when you can opt for a relatively newer design of filters, i.e., an under sink or under counter water filter. Boasting a high water purifying rate, these filters deliver clean water in less time while requiring low maintenance. No wonder this type of filter is so popular in compact, modern households!
However, you might be wondering if an under sink/under counter water filter is efficient, cost-effective, offers sufficient capacity, and so on. Fret not because we have done the research for you and compiled a list of five top-notch options available on the market.
So, without further ado, let's jump right in…
Our Top Pick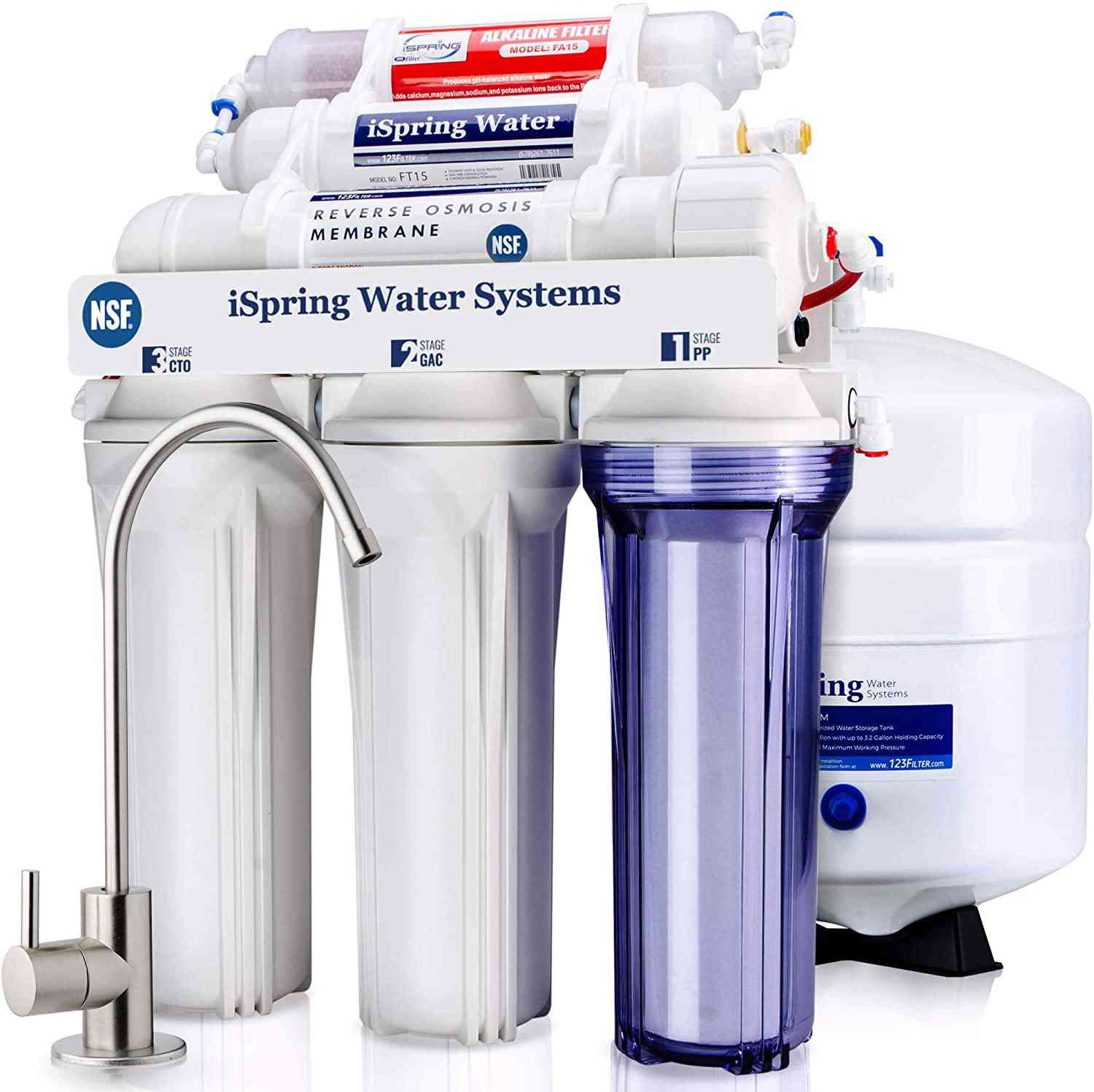 iSpring RCC7AK
Kickstarting the list is this 6-stage water filter by iSpring that offers high-functionality with style. While its Reverse Osmosis (RO) system promises purity and cleanliness, its unique filtration mechanism retains the alkaline minerals so that you can enjoy the natural taste of water.
With its durable pre-filters and 75 gallon-per-day capacity, this unit can effortlessly handle the requirements of a large family. But the cherry on the cake is the elegant European-style faucet that will jazz up your kitchen sink instantly!
Check Price at Amazon
Why Buy an Under Sink Water Filter
Contaminants Removal
An under sink water filter is the most efficient choice for removing contaminants, especially those found in municipal tap water. Usually, city water supply contains high volumes of chlorine, fluoride, sulfur, lead, chemicals from pesticides and herbicides, sand, sediment, and more.
Besides making the water unfit for drinking, these substances add a foul taste and odor. Thus, investing in a high-quality water filter is essential to safeguard your family from water-borne diseases and chemicals. 
Minerals
An important point to keep in mind is that not every under counter water filter eliminates minerals and TDS. Unlike water softeners that are specifically designed to remove calcium, magnesium, and more, a water filter does not provide this feature.
However, some water filters are equipped with an RO membrane or a scale inhibitor that can get rid of hardening minerals to some extent. If hard water is a major concern for you, you would want to add a water softener to the filtration system.
Our Top Product Picks
1
OUR TOP PICK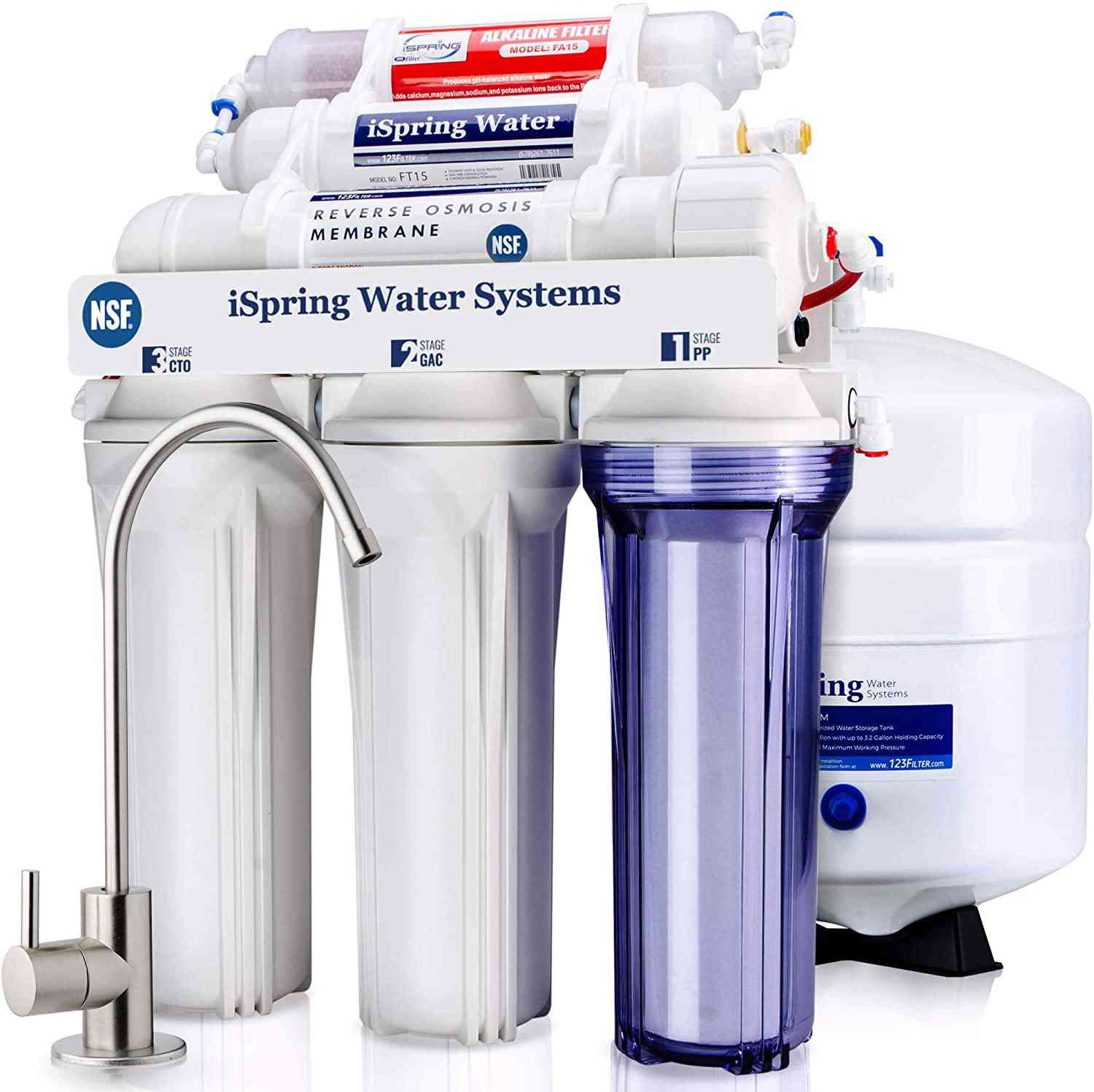 iSpring RCC7AK
Kickstarting the list is this 6-stage water filter by iSpring that offers high-functionality with style. While its Reverse Osmosis (RO) system promises purity and cleanliness, its unique filtration mechanism retains the alkaline minerals so that you can enjoy the natural taste of water. With its durable pre-filters and 75 gallon-per-day capacity, this unit can effortlessly handle the requirements of a large family. But the cherry on the cake is the elegant European-style faucet that will jazz up your kitchen sink instantly!
Check Price at Amazon
Pros
Ultra-fine RO membrane removes 99% of contaminants

Alkaline Remineralization filter maintains pH balance

Pre-filters ensure durability

Stylish and spot-resistant faucet

Easy to install
Cons
Short warranty period

Bulky packaging
What Could've Been Better?
With so many great features, we couldn't figure out what could go wrong with this under sink water filter. But when we realized the product comes with a 1-year warranty, we became a bit crestfallen.
Although the durable material and sturdy construction have left little to complain about, the limited warranty leaves the buyer with the shorter end of the stick. After all, a water filter is not exactly cheap, and not getting any assurance for its longevity is a bummer.
Another minor inconvenience would be its bulky packaging. Of course, that's not a deal-breaker, but due to the heavy weight, we would recommend ordering this unit online. Purchasing it from a physical store will only add to the hassle of loading and unloading it. 
These were the only few drawbacks we could pinpoint in this NSF/ ANSI 58 certified water filter.
Why Buy This Product?
1. 5-stage RO Membrane
A striking feature of this highly efficient under sink water filter is its 5-stage RO system that facilitates clean, pure, and healthy drinking water for your family. Due to its ultra-fine mesh, the reliable and safe filtration system can remove 99% of contaminants. These include 1,000 different types of water pollutants like lead, chlorine, arsenic, sodium, and so on.
In fact, the RO filter is capable of removing substances as small as 0.0001 microns. Now, that's impressive! However, at times, this feature can backfire as the membrane might remove useful minerals as well.
2. Alkaline Remineralization Layered Filtration
As discussed earlier, the 5-stage RO mesh often ends up getting rid of natural alkaline minerals. This results in slightly acidic water with low pH levels. To combat this issue, iSpring has built an additional layer, making this water filter a 6-stage system.
Last but definitely not least is the Alkaline Remineralization layered filter that ensures the natural taste and goodness of water. It does so by restoring just enough healthy minerals to retain the pH balance of water. So, not only will you get the best in terms of purity but also in taste. 
3. Extra Long Life Pre-Filters
Besides the multi-layered system, this unit contains three pre-filters that promise efficiency for a long time period. The first is the PP sediment filter that removes large contaminants from your water supply. Then the 5-micron Carbon KDF (GAC) filters remove more particles like chlorine and chloramine that may have passed through the previous step.
Lastly, the Carbon block (CTO) eliminates the remnants, which not only provides clean water to your faucet but also protects the RO mesh from possible damage. This implies that the three pre-filters play a crucial role in ensuring the durability of the overall filtration system.
4. European Style Kitchen Faucet
Thought the brand might cut back on style after offering all of that functionality? Think again because the iSpring value faucet features a European-style high spout which adds an elegant and chic touch to any sink.
Equipped with a lead-free brass body and ceramic disc valve, this heavy-duty faucet offers a lot more than just style. Its brushed nickel finish prevents spots and allows easy cleaning. Convenience is further ensured with its quick connect fitting system.
5. Easy Installation
The product is delivered with all the necessary parts for easy installation. While it can be a bit time-consuming for beginners, adequate instructions and tutorial videos by the company make the task much more manageable. 
In fact, many customers have applauded the brand for its clearly illustrated instructions that use appropriate colors for better understanding. Besides describing their products and the various components, the manual also explains the working of an RO filter and the minerals and particles it can eliminate. This is especially beneficial for a first-time user who is not well-versed with filtration systems.
Moreover, their customer care team is quick to respond and ready to help. So, if you do get stuck during installation, you can always give them a call for more instructions and advice.
2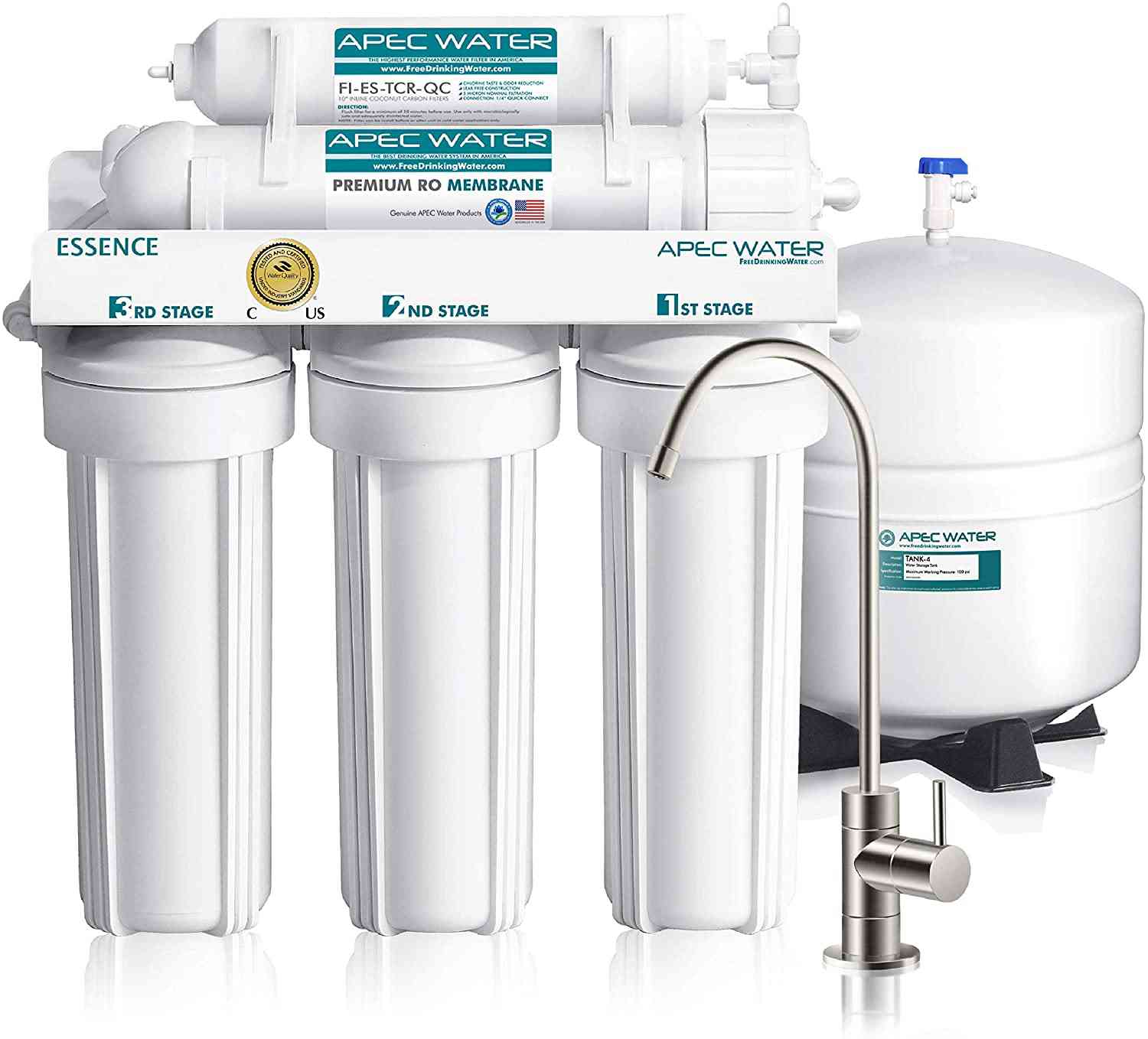 APEC Water Systems ROES-50
Promising superb quality with 20 years of experience, this 5-stage under sink water filter guarantees trouble-free operation. Equipped with a sediment filter, RO membrane, coconut carbon filter, and two carbon blocks, this unit eliminates more than 1,000 contaminants present in tap water and well water. Moreover, you will never have to worry about regular maintenance with its stainless steel teeth and O-ring, which provide leak-free protection. So, you can enjoy pure and superb tasting water with peace of mind.
Check Price at Amazon
Pros
5-stage filter removes more than 1,000 contaminants and

heavy metals

WQA certified quality and performance

High-quality fittings prevent leaks

Designer faucet with 360-degree rotation

Easy installation and maintenance
Cons
Wastes a lot of water

Produces trickling sound
What Could've Been Better?
While there aren't any major faults in this product, we noticed it drained quite a lot of water while filtering. However, wastage is a common issue with many other competing filtration units on the market, so there isn't much we can do to avoid it.
Another drawback would be the continuous operating noise. Although the filter, as a whole, does not produce any sound, the permeate pump and drainage system make a trickling sound that is too loud to ignore. This happens every time you get some water, and the reservoir gets refilled.
While this may not be a concern for many, we thought it is an important point to consider before making the purchase. If noisy systems are one of your pet peeves, you might want to look into other alternatives.
Why Buy This Product?
1. Premium Quality 5-stage Filtration System
This 5-stage under sink water filter combines the best of human expertise and state-of-the-art technology to remove 99% of water pollutants, including chlorine, VOCs, lead, heavy metals, and more. Besides rejecting more than 1,000 such particles, the filter effectively eliminates foul taste and odor-inducing contaminants.
The first step of this multi-level under sink unit is the sediment filter that rejects dust particles, debris, rust, and more. Then, the water is filtered by the double carbon block, which further increases the contact time to get rid of most of the chemicals to ensure purity and cleanliness at its best. 
Next up is the high-rejection RO membrane. As the name suggests, it discards smaller contaminants to ensure the purest water quality for you and your family. Lastly, the refining coconut carbon filter eliminates the rest of the impurities, which could lend a bad taste to the water.
Altogether, these filtration stages guarantee safe and clean water that tastes crisp and refreshing.
2. WQA Certified System
The premium, long-lasting filters, durable materials, sturdy structure, and contaminant removal process are certified by the WQA system. So, the gold seal on this under sink water filter speaks for its top-notch, reliable performance. Whether your supply contains city water or well water, this filter can handle all of it and safeguard your family's health.
Moreover, the two-year extended warranty is quite a relief, making this unit a valuable investment.
 3. 100% Lead-free Designer Faucet
The modern design faucet looks and feels premium in every aspect. Its 100% lead-free body with a brushed nickel finish ensures a spotless look for years to come. Its sleek high spout adds a stylish touch to your sink while providing maximum convenience with its 360-degree rotation.
Once you've installed the filtration unit and faucet, you can rest assured of a clean and safe water supply, minus maintenance issues and expenses.
4. Leak-free Fittings Protection
Talking of maintenance, the high-quality leak-free fittings are equipped with stainless steel teeth for a solid grip to prevent potential blunders. The special O-ring adds to the protection with a leak-proof seal. So, you will never have to rely on additional clipping parts and water leak detectors.
5. Easy Installation and Maintenance
Thanks to the detailed instructions in the user manual, you will have no issues installing this system all by yourself. It could take some time for beginners to figure things out, so they can refer to the step-by-step tutorial videos available online.
Other than that, the package also contains housing wrenches, feed water adaptors, drain saddles, and much more to ease out the installation process. Hence, APEC stays true to its motto, "Just set it and forget it," as this filtration system is low maintenance, preventing you from incurring expenses in the long run.
6. Prompt Customer Support
Despite the easy installation system, some customers did end up getting stuck at some steps. Much to their relief, the customer care team was ever-ready to clear their queries and help them out. You can either reach them by mail or on call, and they will be quick to respond.
3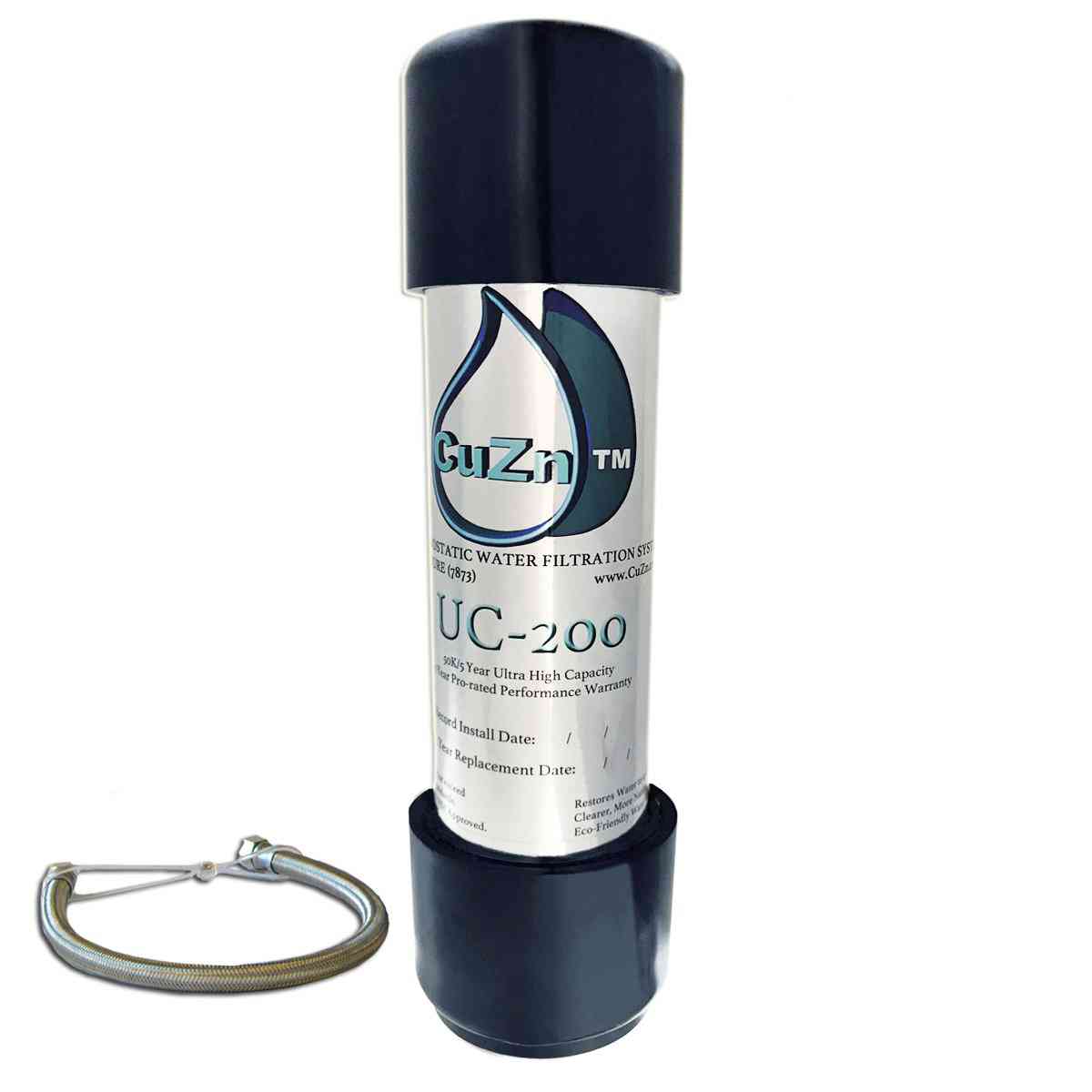 CuZn UC-200 Under Counter Water Filter
Like the previous recommendation, this high-performance filtration system by Aquasana is certified by an independent third party for the removal of 97% of chlorine. You can add a salt-free water conditioner, too, if you want to get rid of hardening chemicals. Since it is a salt-free system, you won't be causing any wastage. The filter can be installed at the main point of the water supply so that you can enjoy the goodness of clean water throughout your household.
Check Price at Amazon
Pros
Ultra-high capacity makes it suitable for large families

5-year lifespan

3-step filtration process removes harmful pollutants

Convenient and customizable installation kit

Certified by NSF standards
Cons
Not recommended for well water

Heavy
What Could've Been Better?
Although this small but sturdy filter unit gets rid of many harmful substances, we recommend it for chlorinated city water only. This is because it misses out on other pollutants, which are primarily found in well water and hard water.
For instance, if your water supply contains high volumes of chloramine, this filter is not for you. Instead, you can check out other units by CuZn, which are specifically meant for chloramine removal.
Bacteria and germs form another major chunk of water-polluting particles, which do not get eliminated with this unit since there is no RO membrane. Lastly, do not expect your water supply to be free from TDS (total dissolved solids) as well.
Other than its inability to remove these specific contaminants, the unit is quite bulky for an under sink water filter. So, even though installation is easy, you will need a helping hand to fit it under your sink or counter.
Why Buy This Product?
1. High Capacity Filter
Big surprises come in small packages, and this under counter water filter proves it. Despite its compact size, its 50,000-gallon ultra high-capacity cartridge will catch you off-guard. 
While most under sink water filters require regular maintenance and replacements due to their relatively small size, this unit stands out. Suitable for large families, it can easily serve your needs for at least five years before requiring a replacement.
Since this unit does not include a filter life indicator, you will have to manually make a note of the date of installation and years of use. Even so, its long lifespan and high capacity make it a convenient investment. 
2. 5-year Prorated Performance Warranty
Since the brand claims a long lifespan, it backs the quality of its product with a performance warranty. If the cartridge or any part of the filter fails within the 5-year warranty period, simply get in touch with the customer care team and get a replacement. Many reviewers swear by the excellent customer service offered by the brand.
Another point to note is that CuZn does not have replacement filters for sale. So, once your cartridge expires, you will have to purchase the water filter again. While it may sound like a recurring expense, it is actually more cost-effective in the long run. Hence, it is a small price to pay for your family's health and well-being.
3. Three-stage Under Sink Water Filter
Unlike the previous products on the list, this under sink filter by CuZn is equipped with just three stages. But it does not compromise on its filtration performance.
First is the micro-sediment membrane that eliminates relatively larger chunks of dust, debris, silt, and rust. Usually, such contaminants are visibly present in water, making it look cloudy. After that, the water is pushed through the coconut shell carbon filter, which removes heavy metals and VOCs, including chlorine. This stage mainly removes the chemical taste from water.
The last stage is the KDF-55 which filters out bacteria and mold. Considering the ongoing pandemic, this filter helps remove harmful toxins that may be present in municipal water. 
Although the UC-200 effectively removes most types of water pollutants, it does not remove calcium and limescale. So, if your water supply contains hardening particles, you will need a separate water softener.
4. Simple Installation Process
The installation process is a cakewalk, so you won't be needing a professional plumber. The packaging includes all the tools and fittings required for installation, and the entire process takes less than an hour.
In case you want filtered water through the kitchen faucet or have any special requirements, the company is ready to customize your kit. This implies, your packaging will contain components specifically designed for your household. No wonder CuZn has such a great reputation in terms of customer service.
5. NSF Certified Product
This water filtration system adheres to NSF standards 42 and 61, which ensure the quality of the product and the purity of water it provides. Thanks to its high-quality build and components, the appearance, taste, and smell of municipal water are significantly improved. 
Thus, once the filter is installed, you can enjoy safe drinking water for five years without worrying about frequent repairs and maintenance.
4
Frizzlife Under Sink Water Filter System
Here's another space-saving variant that's high on efficiency. This under sink water filter by Frizzlife can precisely remove particles as small as 0.5 microns while retaining beneficial minerals for natural tasting water. Thanks to its 2-in-1 filtration system, your water supply will be free from pollutants like sand, sediment, rust, chlorine, heavy metals, and VOCs. However, the best part about this unit is its straightforward installation process. With its compatible fittings, you will be done setting this up in no time.
Check Price at Amazon
Pros
Precision filter removes 99.99% of germs and chemicals

Fast and constant water flow

User-friendly and budget-friendly installation and replacement

Hassle-free auto shut-off system

NSF/ANSI 53&42 certified
Cons
Poor customer service

Not suitable for hard water
What Could've Been Better?
As mentioned earlier, this filter will not be suitable for hard water since it does not get rid of TDS. You will have to look for a separate RO membrane or invest in a water softener in addition to this under sink filter.
Another problem faced by a few buyers was the lack of instructions for the replacement process. Although the brand boasts fuss-free replacements, those without experience may find it confusing on the first go.
Moreover, unlike other brands mentioned on the list, the customer care team of Frizzlife earns no brownie points for its lack of enthusiasm and poor service. Their email responses are known to be different each time which speaks for the team's careless attitude.
Again, this isn't a significant concern, but you can never be sure when the product might malfunction, requiring you to seek help from the company.
Why Buy This Product?
This unit features a 2-stage advanced filtration system that removes fifty-eight different types of pollutants, including 99.99% lead, chlorine, and chemicals. Since the 2-in-1 cartridge consists of a sediment filter and a carbon block, both of 0.5-micron precision, even the smallest particles will stand no chance!
Even while removing such odor and taste degrading particles, it manages to retain useful minerals like calcium, magnesium, sodium, and potassium. While high volumes of these particles harden the water, consuming them in moderate amounts is beneficial for a healthy body. 
However, this factor can turn into a disadvantage for those with hard water supply. If limescale staining, difficult laundry, and pipe blockage are recurring concerns, you will have to look into some water softeners instead.
2. Multi-functional Design
Despite being a budget-friendly option, this under sink water filter serves many household purposes. You can either connect it to your refrigerator or icemaker, according to your convenience. Additionally, you can get your hands on the Frizzlife ST3 faucet and combine it with the filtration system.
Thus, you will be able to enjoy water in its purest form from all the sources in your kitchen. No more pitchers and bottles to refill after every use. Phew!
3. Easy Installation and Replacement
Installing this unit is a no-brainer. Due to its compatible fittings and adequate installation kit, you won't have to spend hours fixing it under the sink. In fact, it is a beginner-friendly process that will not take you more than 3 minutes. Hence, you don't need to worry about spending extra bucks on professional plumbing services.
Unlike the CuZn UC-200, you need not replace the entire unit once the filter cartridge expires. The cartridge is separate from the main plastic body, allowing you to save money and the environment. According to the brand, your savings will shoot up to 70% with this under sink water filter.
4. Convenient Auto Shut-off Mechanism
Speaking of replacements, you will have to change the inner filter cartridge on a yearly basis. However, to reduce the hassle, the filter head sports an auto water shut-off switch. So, in times of replacements or maintenance, you don't have to stop the entire water supply. With a mess-free and tool-free replacement process, this unit has got you covered!
5. Third-party Tested and Certified
In case you're still doubtful about the quality of the product, you'll be relieved to know that third-party companies have tested this Frizzlife water filter. After much research, the product is NSF/ANSI 53&42 certified. 
This implies that the filter is certified to eliminate water pollutants that can degrade your health. Such hazardous particles include lead, fluoride, arsenic, and many more. Moreover, the unit is proven to filter out chlorine and other particles that contribute to foul taste and odor in water.
6. High Water Pressure
Unlike its competitors, this filter offers a maximum
flow rate
of 2 gallons per minute. Hence, households with large families can enjoy the goodness of pure and healthy water without missing out on high
water pressure
. Even if most water sources in the house are engaged, reduced
water pressure
will never be a matter of concern.
5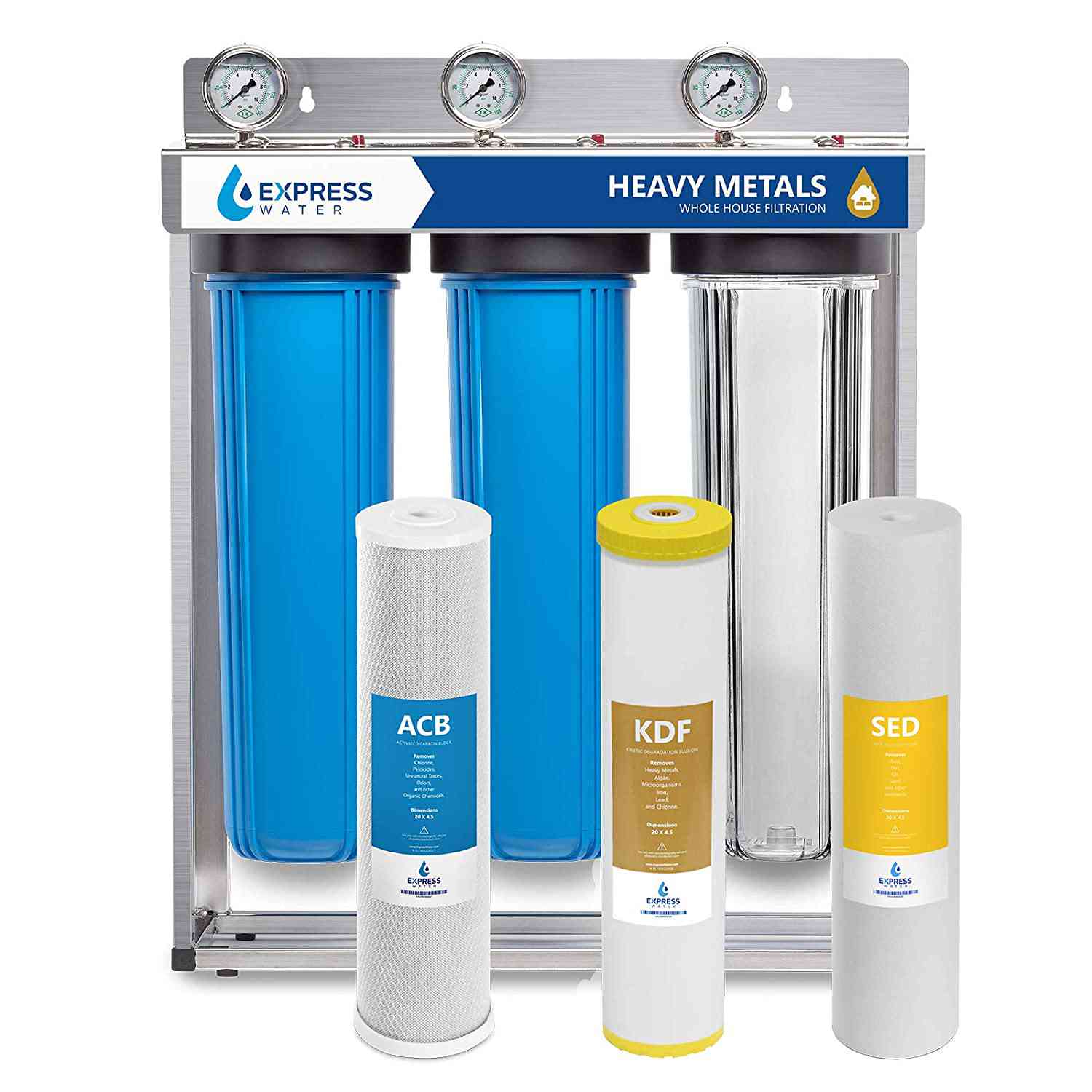 Waterdrop 10UA Under Sink Water Filter System
Another 5-layer filtration system that performs extensively to eliminate even the slightest bit of contamination from your water, Waterdrop 10UA is quite a budget-friendly option. Its high capacity and fast flow rate make it a common choice among many households, especially those with a lack of storage space. Albeit not suitable for hard well water, this under sink system prevents scale formation to some extent. Additionally, its BPA-free build further enhances the safety of drinking water for you and your family.
Check Price at Amazon
Pros
5-

stage under sink water filter

with scale inhibitor

NSF certified BPA-free and lead-free materials

Easy installation and replacement process

High

water pressure

Space-saving design
Cons
Not suitable for well water

Does not remove high amounts of hardening particles
What Could've Been Better?
Much like the majority of products mentioned previously, this unit is also not suitable for well water. It is specifically designed for municipal tap water, which contains high amounts of fluoride. However, if you are using well water and still wish to choose this product, you can opt for a pre-filtration system. This prevents clogging and ensures a longer lifespan of the filter.
If your water supply contains high quantities of calcium, potassium, and sodium, we recommend steering clear of this product! This is because of the simple reason that it does not remove TDS which includes the hardening particles mentioned earlier. Although the scale inhibitor prevents build-up from such minerals, it is not entirely sufficient to soften water.
Why Buy This Product?
1. Advanced 5-stage Water Filtration System
Unlike the few products mentioned previously, 10UA is equipped with five stages of filtration. 
First up is the polyester membrane that eliminates large chunks of sand and sediment. Most water contaminants that we can see with the naked eye are filtered out at this stage. Then the activated carbon block treats chlorinated water to improve the overall taste and smell. This stage ensures natural tasting water, which will further get purified in consecutive steps.
The KDF filter forms the third stage, which is responsible for removing water-borne bacteria and germs. It also gets rid of heavy metals, not only ensuring safe drinking water for you but also the prolonged life of the cartridge. Next is the fluoride remover, a unique feature considering its competitors, which are not equipped with this filtration stage.
Finally, the scale inhibitor forms the last step. The name is quite self-explanatory, and its function is specifically beneficial in this system since it does not remove TDS which includes calcium and magnesium. 
2. BPA-free, Lead-free Material 
Made of premium materials, this filtration unit is BPA-free and lead-free, which further enhances the safety of filtered water. In addition to that, its quality and performance is NSF certified, so you can rest assured of enjoying only the best quality water. This factor is especially crucial if you have infants in the house. 
3. Beginner-friendly Installation Process
Waterdrop has left no stone unturned in terms of convenience. Whether it is installation or replacement, you will never have to spend money on any professional plumbing services. With its unique push-to-connect mechanism, the installation will take no longer than three minutes. And believe it or not— you can replace the inner cartridge in just three seconds!
Moreover, the installation kit includes all the tools and components you will require. In case you need a 3/8" threaded connector, just let the customer care team know beforehand, and they will ensure it is included in your package. 
4. Constant and Fast Water Flow Rate
Low water pressure is a major issue with most water filters, but the 10UA does not disappoint! 
With a water flow rate of 2 gallons per minute, large families can enjoy a safe and steady water supply at all times. Due to this factor, the filter is suitable for commercial use as well. Additionally, replacing the filter hardly takes any time, so this unit will never keep you waiting for clean drinkable water.
5. High Capacity with Compact Design
Measuring just 3.6 x 3.9 x 12.3 inches, the 10UA is perfect for cramped spaces, allowing its versatile use in the kitchen, bathroom, office, and more. But despite its petite design, this water filter is built like a tank!
With its 8K-gallon capacity, it can last about a year before requiring a change of cartridge. However, the replacement intervals may vary according to the quality of the water supply and your family's rate of consumption. 
Overall, its high capacity was a pleasant surprise, considering its compact size. Waterdrop managed to bring the best of both worlds for a modern household!
Things To Consider an Under the Sink Water Filter
By now, you must be well-versed with the best under sink water filters on the market. But choosing the most suitable one for your household is still a challenging task. While some filters boast of a multi-layered filtration process, others sport a 2-in-1 cartridge. We understand all of these features can get overwhelming and further confuse you.
Fret not! We've got your back with the following guide that discusses all the characteristics of an under sink filter in detail. This section will help you pinpoint what you would want in a filter according to your family's needs and lifestyle. So, without wasting any more time, let's take a look at some factors you must consider to pick the best filter…
1. Types of Under Sink Water Filters
An under sink or under counter water filter can be categorized into two groups- simple under sink filter and conventional under sink filter. Knowing how each of these works is crucial in making a smart move.
A. Conventional Under Sink Filter
This system needs a short plastic tube to divert the cold water supply towards the filter. You can use the treated water through a separate faucet. Note that only a part of the water supply will be filtered, meaning you will require two taps on the kitchen sink. Also, the overall pressure will be relatively lower, but that helps in the effective removal of contaminants.
Although the installation process is pretty straightforward, you may require some adjustments on your kitchen sink and faucet. 
B. Simple Under Sink Filter
Named after its simple installation process, this type of filter is equipped with flexible connectors and does not require extra components or any modifications. Once you install a simple under sink filter, your cold water supply rushes towards it for filtration. Since it does not require any specific type of faucet, it will be perfectly compatible with your existing faucet and deliver high water pressure.
Designed for the cold water line only, this filter is easy to use and budget-friendly. Instead of facing the hassle of having separate faucets, you can enjoy filtered water for a variety of kitchen activities.
A few minor disadvantages of this type of filter would be the frequency of replacements. Since it filters more water at high pressure, you'll need to change the cartridge more often. Plus, this may also allow a few tiny pollutants to get through the filtration system.
2. Filtration Efficiency
Some filters feature specialized inner cartridges which tackle specific types of water pollutants. For instance, a KDF filter removes most water-borne bacteria and microorganisms. On the other hand, a coconut shell carbon block filters out heavy metals. Thus, testing your water supply is a prerequisite for picking a suitable filter.
You can opt for a water testing kit to help identify the major groups of contaminants in the water supply. Accordingly, you can purchase an under counter water filter which is equipped with suitable cartridges to target specific water pollutants.
3. Lifespan of Cartridge
A majority of the filters mentioned above require a replacement once a year, but CuZn UC-200 stands out with its 5-year lifespan. So, how important is cartridge longevity?
Since most cartridges sport a similar mechanism, a longer lifespan usually means better quality. So, not only will such filters last long, they will perform better as well. However, you must remember that the actual lifespan of a filter depends on the water quality and your family's rate of water consumption. These factors can cause the advertised cartridge longevity to vary.
Additionally, a water filter that serves longer is a convenient and more cost-effective option in the long run. Once installed, you can enjoy safe drinking water without worrying about constant replacements. 
4. Rate of Water Flow
Nobody wants to wait for a glass of water. Thus, water pressure is an important consideration while purchasing a water filter. Although under sink water filters offer higher pressure when compared to other types of filters, we recommend checking the pressure capacity of the product beforehand. 
While it may look attractive initially, keep in mind that a fast flow rate often means less contact with the filter. This could further result in an insufficient filtration period, and the water may not be 100% clean. 
5. Installation and Maintenance
An under sink filter that facilitates easy installation and replacements is the way to go, especially if you're a beginner. Although the installation process is a one-time headache, we think it's best to invest in a high-quality filter and install it yourself. Why spend on a plumbing service when there are tons of easy-to-install units available out there?
Moreover, if a filter is difficult to install or too bulky to handle, the chances of damage are high. You would want a replacement or a refund, but we know how stingy customer care teams can get! So, to avoid all of this hassle, we highly recommend doing your research and opting for a DIY unit. 
Most of the options we listed above are accompanied by a detailed instruction manual. But if you get stuck at any step, get on your laptop and look for tutorial videos. 
Furthermore, replacements should be easy enough to be performed by beginners. Or else you'll be incurring frequent maintenance costs, especially if it's a low-capacity filter. 
6. Measurements
Needless to say, knowing the measurements of the unit you're about to purchase is essential. After all, you don't want to end up with a filter that does not fit under your kitchen sink!
Thus, before you commence your search for a suitable water filter, it is best to note the measurements of the storage space. This step is especially recommended to those who live in a compact apartment and want a space-saving unit. 
Moreover, if you do not have much space to spare, we recommend getting a multi-functional water filter. 
7. Faucet Design
Not all under sink water filters have a faucet included in the packaging. But those which do must offer a high-quality faucet that lasts long and requires low maintenance.
We recommend a lead-free faucet, preferably with a brushed nickel finish which ensures durability and easy cleaning. Since municipal water picks up contaminants on the way through old pipes, a lead-free faucet will reduce such impurities before the water reaches you.
A welcome addition would be a sleek and stylish, high spout design that will match with the rest of your kitchen decor. After all, striking the perfect balance between fashion and functionality is necessary for a modern kitchen.
8. Sufficient Instructions
Although installing under sink water filters is relatively easier than other designs, it helps a lot to have a clear set of instructions. Especially for buyers without experience, it's a good idea to purchase a filter system that is not only easy to install but also carries adequate instructions. Also, sometimes finding a plumber instantly may not be as simple as it sounds.
Other than that, you can check if the filter unit you are eyeing has enough tutorials online for future reference. Helpful customer service is the icing on the cake when things get too difficult.
9. Quality of Materials
Besides the filter itself, you must check the quality of the additional components as well. Only if the unit has high-quality fittings, connecting tubes, and more, can it filter water efficiently for a long time. Lesser maintenance issues are another advantage of investing in a unit that is equipped with well-built accessories.
10. Third-party Tested
Brands will obviously sing praises for their products. But how do we know whether a water filter actually lives up to its lofty claims?
This is when you look for the mark of certification by the National Sanitation Foundation/ American National Standards Institute (NSF/ ANSI) or the Water Quality Association (WQA). Let's take a look at what these certifications signify…
A. NSF/ ANSI Certification
The topmost American research and testing organizations, NSF and ANSI, certify a product only if it adheres to the quality standards claimed by the brand. Most of the time, a manufacturer is asked to present correct information about a product, which is then lab tested and evaluated.
B. WQA Certification
WQA is another third-party organization that determines whether a filtration unit complies with the industry standards. A WQA certified product promises high-quality performance and reliable customer service.
A product tested by third parties and certified by either of these organizations is known to improve the quality, taste, appearance, and odor of water. It is also a reliable indicator of the build quality of the product.
11. Kitchen And Sink Adjustments
This factor may vary according to the unit you purchase, but we think it's best you know about some arrangements that should be made before installing an under sink filter.
Since such filters are connected to the kitchen sink, ensure that you either have a separate faucet or a hole drilled for the complementary faucet some units offer. Additionally, you will require a tap beside the filter to facilitate a constant supply of running water. 
If the water filter runs on electricity, you will need a power socket nearby for smooth operation. Lastly, a well-designed drainage system can help keep the area clean and tidy by directing the waste water towards an outlet.
Final Words
Water pollution is a growing concern, and there is little we can do to prevent it. With large-scale industries dumping their waste products into the water resources, the amount of freshwater available for human consumption is less than 1%. 
Thus, an under sink water filter is a necessity in compact, modern households. With our list of the top five options available on the market, we tried to cover various units that cater to different needs and lifestyles. So, we advise you to weigh all the pros and cons before making your pick.
But before we sign off, we'd like to spill some of our favorites. It goes without saying, iSpring RCC7AK stays superior with its strong filtration and pH maintenance system. Alternatively, CuZn UC-200 Under Counter Water Filter stands out with its enormous capacity of 50,000 gallons. 
With that, we come to the end of this informative review-based guide. Stay tuned for more because we'll be back soon.
Till then, stay hydrated!