Our Top Pick
Our Top Product Picks
1
OUR TOP PICK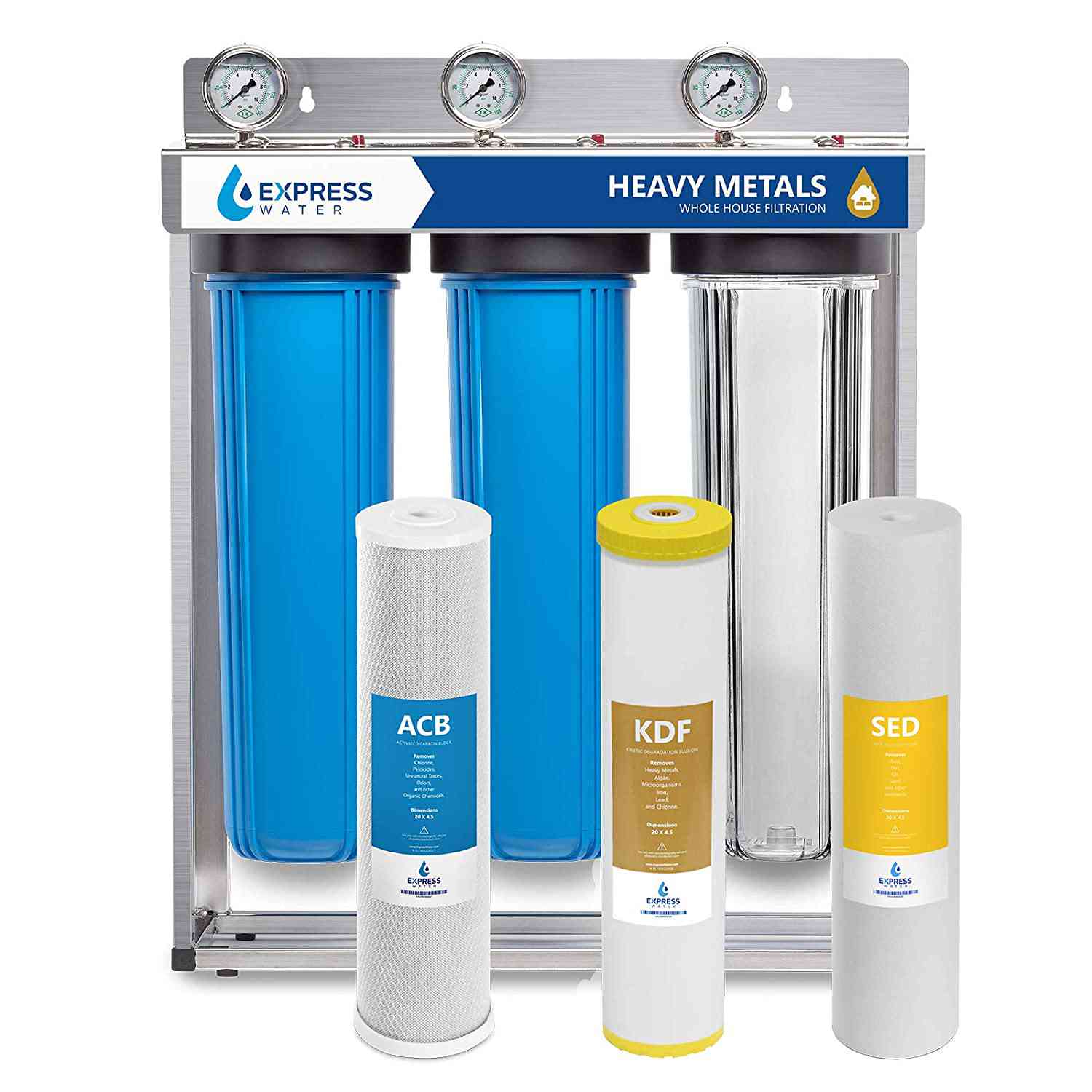 Waterdrop 10UA Under Sink Water Filter System
Another 5-layer filtration system that performs extensively to eliminate even the slightest bit of contamination from your water, Waterdrop 10UA is quite a budget-friendly option. Its high capacity and fast flow rate make it a common choice among many households, especially those with a lack of storage space. Albeit not suitable for hard well water, this under sink system prevents scale formation to some extent. Additionally, its BPA-free build further enhances the safety of drinking water for you and your family.
Check Price at Amazon
Pros
5-

stage under sink water filter

with scale inhibitor

NSF certified BPA-free and lead-free materials

Easy installation and replacement process

High

water pressure

Space-saving design
Cons
Not suitable for well water

Does not remove high amounts of hardening particles
What Could've Been Better?
Much like the majority of products mentioned previously, this unit is also not suitable for well water. It is specifically designed for municipal tap water, which contains high amounts of fluoride. However, if you are using well water and still wish to choose this product, you can opt for a pre-filtration system. This prevents clogging and ensures a longer lifespan of the filter.
If your water supply contains high quantities of calcium, potassium, and sodium, we recommend steering clear of this product! This is because of the simple reason that it does not remove TDS which includes the hardening particles mentioned earlier. Although the scale inhibitor prevents build-up from such minerals, it is not entirely sufficient to soften water.
Why Buy This Product?
1. Advanced 5-stage Water Filtration System
Unlike the few products mentioned previously, 10UA is equipped with five stages of filtration. 
First up is the polyester membrane that eliminates large chunks of sand and sediment. Most water contaminants that we can see with the naked eye are filtered out at this stage. Then the activated carbon block treats chlorinated water to improve the overall taste and smell. This stage ensures natural tasting water, which will further get purified in consecutive steps.
The KDF filter forms the third stage, which is responsible for removing water-borne bacteria and germs. It also gets rid of heavy metals, not only ensuring safe drinking water for you but also the prolonged life of the cartridge. Next is the fluoride remover, a unique feature considering its competitors, which are not equipped with this filtration stage.
Finally, the scale inhibitor forms the last step. The name is quite self-explanatory, and its function is specifically beneficial in this system since it does not remove TDS which includes calcium and magnesium. 
2. BPA-free, Lead-free Material 
Made of premium materials, this filtration unit is BPA-free and lead-free, which further enhances the safety of filtered water. In addition to that, its quality and performance is NSF certified, so you can rest assured of enjoying only the best quality water. This factor is especially crucial if you have infants in the house. 
3. Beginner-friendly Installation Process
Waterdrop has left no stone unturned in terms of convenience. Whether it is installation or replacement, you will never have to spend money on any professional plumbing services. With its unique push-to-connect mechanism, the installation will take no longer than three minutes. And believe it or not— you can replace the inner cartridge in just three seconds!
Moreover, the installation kit includes all the tools and components you will require. In case you need a 3/8" threaded connector, just let the customer care team know beforehand, and they will ensure it is included in your package. 
4. Constant and Fast Water Flow Rate
Low water pressure is a major issue with most water filters, but the 10UA does not disappoint! 
With a water flow rate of 2 gallons per minute, large families can enjoy a safe and steady water supply at all times. Due to this factor, the filter is suitable for commercial use as well. Additionally, replacing the filter hardly takes any time, so this unit will never keep you waiting for clean drinkable water.
5. High Capacity with Compact Design
Measuring just 3.6 x 3.9 x 12.3 inches, the 10UA is perfect for cramped spaces, allowing its versatile use in the kitchen, bathroom, office, and more. But despite its petite design, this water filter is built like a tank!
With its 8K-gallon capacity, it can last about a year before requiring a change of cartridge. However, the replacement intervals may vary according to the quality of the water supply and your family's rate of consumption. 
Overall, its high capacity was a pleasant surprise, considering its compact size. Waterdrop managed to bring the best of both worlds for a modern household!