Our Top Pick
Our Top Product Picks
1
OUR TOP PICK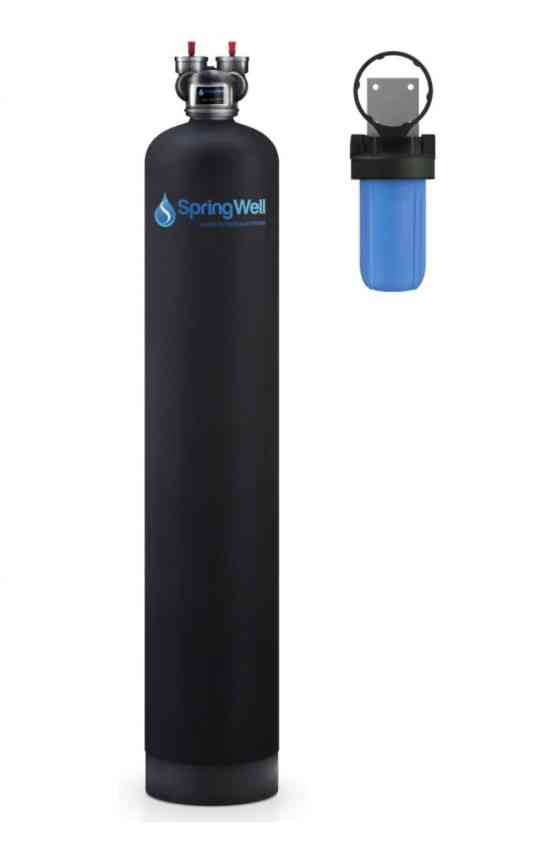 Springwell CF1
One of the most high-quality water filter systems that boasts of optimal customer satisfaction is this unit by Springwell. It offers an enormous capacity of 1,000,000 gallons with four filtration stages to remove toxins like acids, chlorine, herbicides, and more. Even with all those features and heavy-duty capacity, the CF1 requires minimum maintenance. And if you're still not satisfied with all of those filters, let us tell you that Springwell offers a lifetime warranty and a 6-month cash back guarantee.
Check Price at Amazon
Pros
No electricity needed to operate
Attractive lifetime warranty and 6-month trial period with cashback offer
Low maintenance
Innovative multi-layered water filtration system
Constant flow rate
Cons
Difficult to install

Large and heavy unit
What Could've Been Better?
Although the packaging includes an installation kit, this unit is not easy to install. Unless you have prior plumbing experience, it is best to seek some professional help.
Also, its steel construction makes it quite heavy to lift, so make sure that you get another person to help in case of installing it yourself. Due to its size, it is best suited for a small to medium-sized house instead of a small apartment or condo.
Moreover, this unit is a bit on the expensive side. On top of that, it does not include a UV filter and a replacement filter. So, if you're looking for a budget-friendly water filter, steer clear of this one.
Why Buy This Product?
1. Revolutionary Four-stage Filtration System
Here's how the complex, four-layer filtration system ensures the removal of all forms of contamination and complete purification of water.
Stage 1
First, the municipal water flows through a Kinetic Degradation Fluxion (KDF) media, which plays a pivotal role in eliminating chlorine and other toxins. Since this is the first stage, some minute particles and chemicals may pass through it.
Stage 2
In the second step, a coconut shell carbon media actively expels organic pollutants that enter the water bodies. Such contaminants may include chemicals from pesticides and herbicides, VOCs, chloramine, chlorine, and more.
Stage 3
Next is SpringWell's proprietary design media that removes more contaminants than any other water filtration system on the market. The elongated contact time between the water and the multi-layered filter allows the brand to make such lofty claims.
Stage 4
Lastly, the 5-micron sediment filter gets rid of sand, dirt, clay, and other particles that the previous layers might have missed. Long story short, the water will be free from chlorine, haloacetic acids, PFOA, PFAS PFOS, sulfur, and other organic chemicals.
2. Better Tasting Water And Food
Chlorine is a major cause of harmful, unnatural tasting water. This unit effectively removes chlorine and chloramine that cause bad taste and odor. Once you install this whole house water filter, you will be getting the best tasting water straight from the tap.
Additionally, this ensures better tasting food too. In fact, studies have proven that well-filtered water results in delicious meals and beverages. After all, water is the main ingredient in many dishes like soups, broths, stews, and more. Isn't that a sweet deal?
3. Smooth Skin And Hair
Since this system removes dirt and toxins, your skin and hair will feel smoother and healthier. By getting an efficient water filter, you will be addressing the root cause of the problems instead of wasting money on countless skin and hair products.
Achieving better skin and hair naturally will also reduce the cost of frequent spas and facials in the future.
4. Uniform Water Pressure
The CF1 is designed for houses with 1-3 bathrooms. So, if that's your case, you will be receiving 9 GPM, even if all the bathrooms are engaged at the same time. You must note that the minimum level of pressure is 8 GPM for a maximum of three bathrooms.
Consequently, if your house has more bathrooms, consider upgrading to CF4 or CF+.
5. Lifetime Warranty And 6-month Cashback Offer
Due to its high-quality carbons, innovative up-flow construction, and intricate filtration system, Springwell offers a lifetime warranty for the filter and its fittings. However, the warranty does not cover cases of maltreatment, carelessness, damage caused by fire or freezing, and so on.
Moreover, the trial period lasts for six months. Within that time, if you are unsatisfied, the company is willing to provide 100% cashback.
6. Low Maintenance
Although the installation may require some professional intervention, CF1 is a low-maintenance unit overall. The pre-filter must be changed regularly within 6-9 months, while the media requires a replacement once in every decade.