Our Top Pick
Our Top Product Picks
1
OUR TOP PICK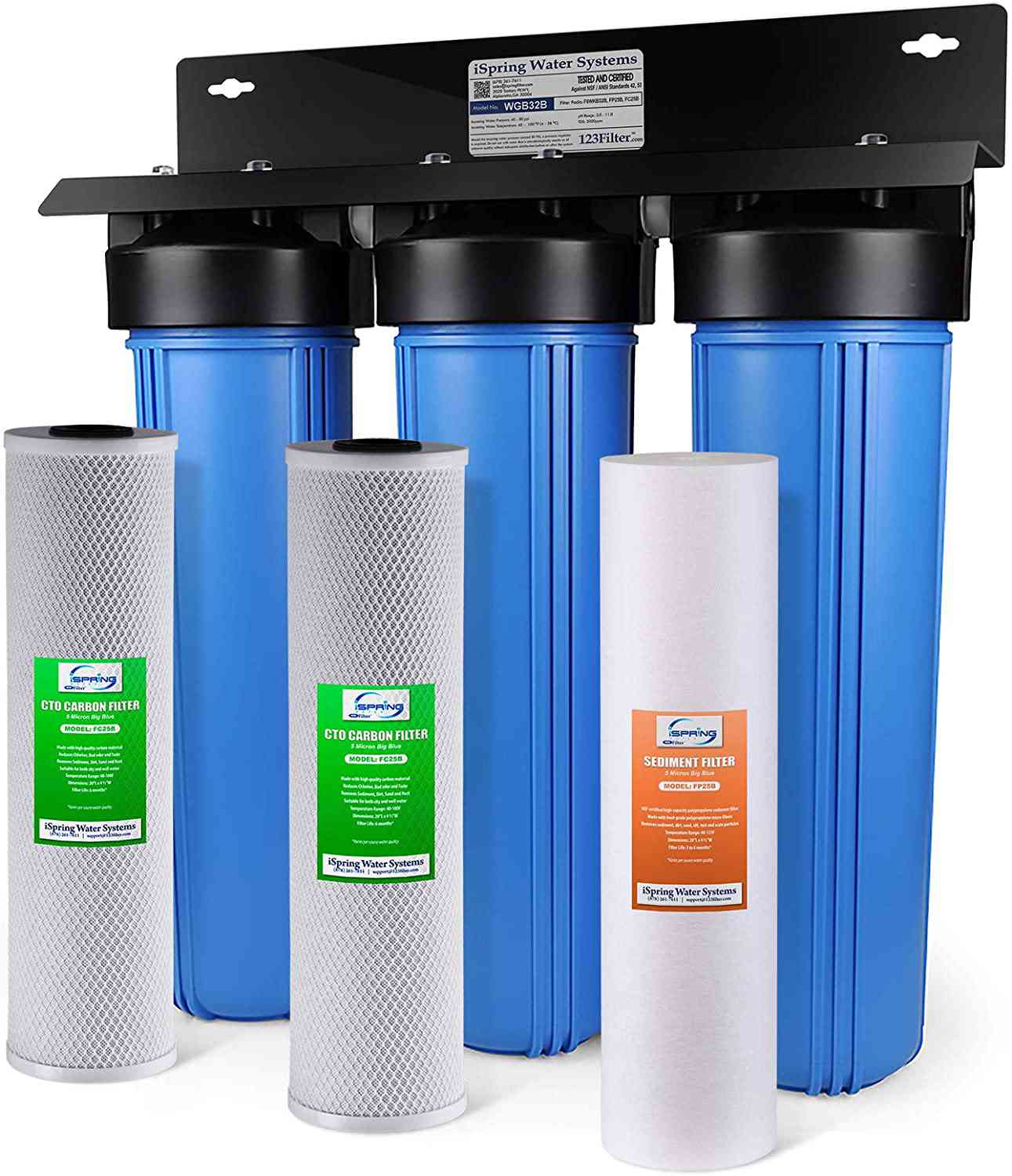 iSpring WGB32B 3-Stage Whole House Water Filtration System
Another effective whole house water filter at half the price of our previous recommendation is this unit by iSpring. It removes up to 95% of harmful chemicals like chlorine, sediment, VOCs, and more that cause bad taste and odor. Equipped with a pre-filter, a carbon block filter, and a heavy metals filter, its 3-stage filtration system is suitable for well water. However, it will keep beneficial minerals intact, thereby providing you the best quality of water for better health.
Check Price at Amazon
Pros
3-stage filtration system for complete purification of

well water

Water

flow rate

of up to 15 GPM

DIY installation, suitable for beginners

Retains useful minerals

3-year warranty and lifetime free tech support
Cons
Filter connections may leak

The third filter needs frequent replacements
What Could've Been Better?
Aquasana has left no stone unturned in providing the best quality of water for you and your family. But there are a few faults we couldn't help but notice.
Straight off the bat, we have to talk about the frequency of filter replacements. Compared to other products on the list, this water filter needs a replacement within a shorter period. Also, the additional expenses of the add-on filters make the overall cost high.
Even with the pro-grade install kit, the installation process is not easy for beginners. It is best to call for a plumber or technician to help you out. On top of that, some customers have complained about missing parts in the kit.
Why Buy This Product?
1. Powerful 3-stage Water Filtration System
Best suited for well water, this filtration system is equipped with three layers to combat 95% of water pollutants like chlorine, rust, sediments, chemicals from pesticides and herbicides, and so on. Let's find out how each stage helps purify your water supply.
Stage 1
The first stage consists of a polypropylene sediment filter which removes large toxic particles found in well water. Contaminants larger than 5 microns such as dust, sediment, rust, and more are removed completely before moving to the next stage.
Stage 2
The following two filters are made of coconut shell carbon, which eliminates chlorine and organic chemicals. This stage is crucial for removing the bad taste and odor of chemicals from the water. Also, the first and second stages boast a capacity of 100,000 gallons each.
Stage 3
The last stage ensures further removal of leftover pollutants for maximum filtration and extended filter life. By removing rust particles, sand, sediment, and more, your filter will last longer and keep maintenance costs at bay. But unlike the first two filters, this CTO carbon block will require regular replacements since its capacity is just 50,000 gallons.
An interesting point to note is that both the carbon filters are tested and certified to meet the NSF/ANSI standards.
2. Large Ports For High Water Pressure
As compared to the first product, iSpring offers high pressure of up to 15 GPM. This impressive flow rate is possible due to its 1-inch inlet and outlet, which is wide enough to allow more water to pass through. It is safe to say that this unit promises the highest pressure at this price point.
3. Keeps Useful Minerals Intact
Unlike most RO systems, this whole house water filter does not decrease the amount of Total Dissolved Solids (TDS). This implies that the filter allows some amount of healthy minerals to remain in the water. So, your body will not be devoid of the necessary amount of calcium and other useful particles that we get from drinking water.
4. Easy Installation And Maintenance
The packaging of this water filtration system includes a detailed instruction manual for DIY installation. All you have to do is mount it at the main point of the water supply. In case of any difficulties, you can always check out some YouTube tutorials for step-by-step guidance.
5. Long Warranty Period
Customers can register online to activate the extended manufacturer's warranty of three years. Also, you will be entitled to receive lifetime tech support from the local support team for free. Their prompt customer care team is ready to help in case of any defects or damage to the product.
Besides the low maintenance and easy installment, the warranty deal makes this water filter a valuable investment.