Our Top Pick
Our Top Product Picks
1
OUR TOP PICK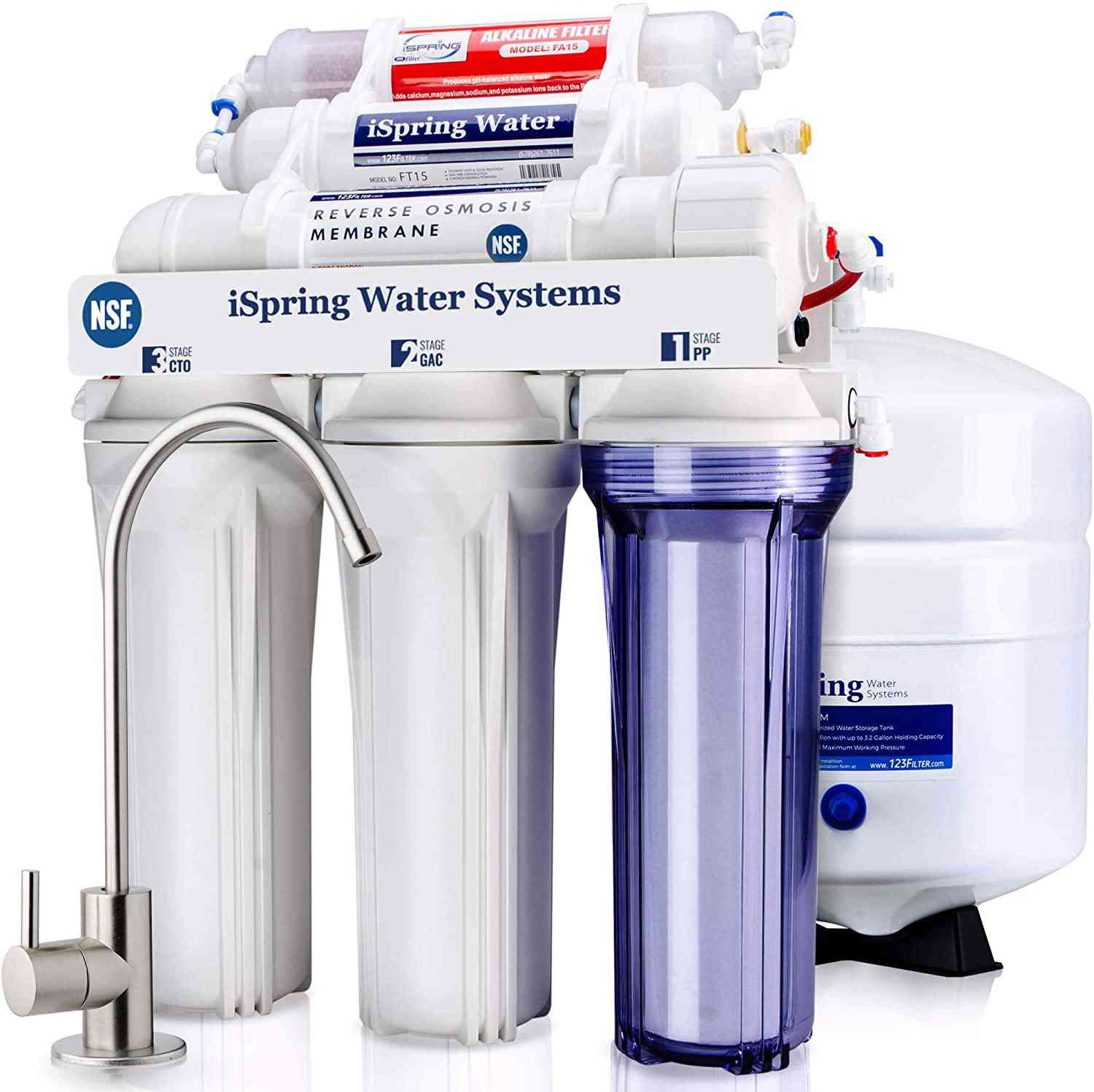 iSpring RCC7AK
Kickstarting the list is this 6-stage water filter by iSpring that offers high-functionality with style. While its Reverse Osmosis (RO) system promises purity and cleanliness, its unique filtration mechanism retains the alkaline minerals so that you can enjoy the natural taste of water. With its durable pre-filters and 75 gallon-per-day capacity, this unit can effortlessly handle the requirements of a large family. But the cherry on the cake is the elegant European-style faucet that will jazz up your kitchen sink instantly!
Check Price at Amazon
Pros
Ultra-fine RO membrane removes 99% of contaminants

Alkaline Remineralization filter maintains pH balance

Pre-filters ensure durability

Stylish and spot-resistant faucet

Easy to install
Cons
Short warranty period

Bulky packaging
What Could've Been Better?
With so many great features, we couldn't figure out what could go wrong with this under sink water filter. But when we realized the product comes with a 1-year warranty, we became a bit crestfallen.
Although the durable material and sturdy construction have left little to complain about, the limited warranty leaves the buyer with the shorter end of the stick. After all, a water filter is not exactly cheap, and not getting any assurance for its longevity is a bummer.
Another minor inconvenience would be its bulky packaging. Of course, that's not a deal-breaker, but due to the heavy weight, we would recommend ordering this unit online. Purchasing it from a physical store will only add to the hassle of loading and unloading it. 
These were the only few drawbacks we could pinpoint in this NSF/ ANSI 58 certified water filter.
Why Buy This Product?
1. 5-stage RO Membrane
A striking feature of this highly efficient under sink water filter is its 5-stage RO system that facilitates clean, pure, and healthy drinking water for your family. Due to its ultra-fine mesh, the reliable and safe filtration system can remove 99% of contaminants. These include 1,000 different types of water pollutants like lead, chlorine, arsenic, sodium, and so on.
In fact, the RO filter is capable of removing substances as small as 0.0001 microns. Now, that's impressive! However, at times, this feature can backfire as the membrane might remove useful minerals as well.
2. Alkaline Remineralization Layered Filtration
As discussed earlier, the 5-stage RO mesh often ends up getting rid of natural alkaline minerals. This results in slightly acidic water with low pH levels. To combat this issue, iSpring has built an additional layer, making this water filter a 6-stage system.
Last but definitely not least is the Alkaline Remineralization layered filter that ensures the natural taste and goodness of water. It does so by restoring just enough healthy minerals to retain the pH balance of water. So, not only will you get the best in terms of purity but also in taste. 
3. Extra Long Life Pre-Filters
Besides the multi-layered system, this unit contains three pre-filters that promise efficiency for a long time period. The first is the PP sediment filter that removes large contaminants from your water supply. Then the 5-micron Carbon KDF (GAC) filters remove more particles like chlorine and chloramine that may have passed through the previous step.
Lastly, the Carbon block (CTO) eliminates the remnants, which not only provides clean water to your faucet but also protects the RO mesh from possible damage. This implies that the three pre-filters play a crucial role in ensuring the durability of the overall filtration system.
4. European Style Kitchen Faucet
Thought the brand might cut back on style after offering all of that functionality? Think again because the iSpring value faucet features a European-style high spout which adds an elegant and chic touch to any sink.
Equipped with a lead-free brass body and ceramic disc valve, this heavy-duty faucet offers a lot more than just style. Its brushed nickel finish prevents spots and allows easy cleaning. Convenience is further ensured with its quick connect fitting system.
5. Easy Installation
The product is delivered with all the necessary parts for easy installation. While it can be a bit time-consuming for beginners, adequate instructions and tutorial videos by the company make the task much more manageable. 
In fact, many customers have applauded the brand for its clearly illustrated instructions that use appropriate colors for better understanding. Besides describing their products and the various components, the manual also explains the working of an RO filter and the minerals and particles it can eliminate. This is especially beneficial for a first-time user who is not well-versed with filtration systems.
Moreover, their customer care team is quick to respond and ready to help. So, if you do get stuck during installation, you can always give them a call for more instructions and advice.