Our Top Pick
Our Top Product Picks
1
OUR TOP PICK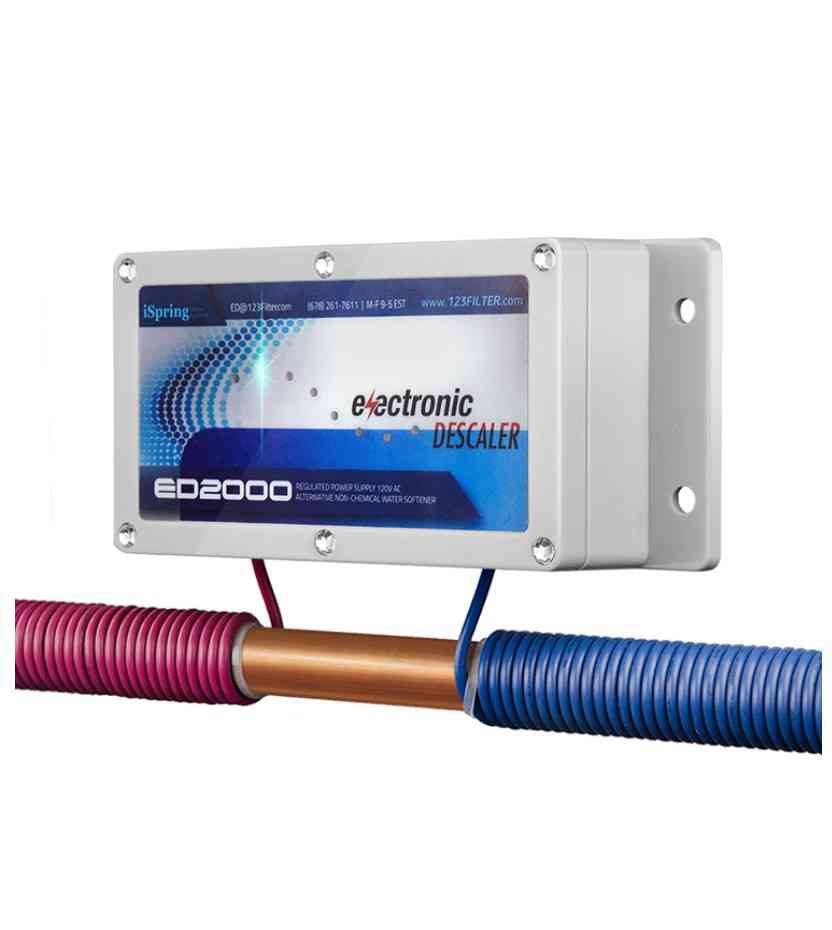 iSpring ED2000
A relatively inexpensive option, this electronic water softener is compact, efficient, and does not use any salt. Along with its convenient size and settings, it is quite easy to install, so you don't need to worry about calling a plumber. Measuring just 7 x 3.5 x 2 inches, its small size is inversely proportional to its high functionality. A salt-free water softener that produces minimum waste, this is the best bet for any environment-conscious user.
Check Price at Amazon
Pros
Recommended for sodium-free diets

Economical and eco-friendly alternative

Easy installation and programming

Slim and compact design

Retains beneficial minerals
Cons
Not suitable for very

hard water

that contains iron
What Could've Been Better?
Since the ED2000 is a water conditioner, it is not equipped with an iron filter. So, if your water supply contains high levels of ferrous iron, you will need to install a pre-filter or look for another model. Also, if the hardness level of the water exceeds 25 grains, this salt-free alternative may not be ideal for you.
Lastly, since this product is not exactly a water softener, it does not remove all the hard minerals from the water. So, although the water will be significantly soft, severe skin and hair issues may not be resolved.
Why Buy This Product?
1. Salt-Free Conditioner
A salt-free electronic descaler, the ED2000 comes with the effectiveness of a salt-based water softener at an affordable price tag. Since it does not rely on salt or any other chemical, it is suitable for sodium-free diets. Maintenance cost will also be negligible, and there will be no problem of lifting heavy salt bags.
None of the factors like salt levels, resin quality, and more can affect the performance of the ED2000. Overall, it is a more economical and eco-friendly alternative to your regular water softener.
2. Compact Design
With its compact and slim design, you can easily install the system in small spaces. It is easy to carry and move, which adds to its ease of installation and programming. You can even install it vertically if required. Thus, it is a great space-saving alternative to any traditional salt-based water softener.
3. Easy Installation
Installation requires no prior plumbing experience, though you might require a pair of helping hands to sail through the process. A significant reason behind this is the fact that you do not need to cut through your pipe system. The unit bears coils that easily wrap around the pipes.
However, if you happen to face any difficulty with installation, you can contact the customer service for help.
4. Retains Beneficial Minerals
Some of the minerals present in hard water are required for a healthy diet. Thus, this electronic water softener ensures softness without removing the necessary minerals like calcium and magnesium. Because of this, your water will better retain a natural feel and taste, especially compared to the chemical-like taste of soft water.
5. Cost-Effective
Since this system does not require salt, you will be saving money on salt refills. Most salt-based water softeners require regular maintenance and the bills keep piling up. However, that will not be the case with this product.
Moreover, unlike many salt-free conditioners, this descaler does not require you to incur a huge initial cost. Hence, you will be saving a lot of money while making a good investment. And honestly, that sounds like a win-win to us!