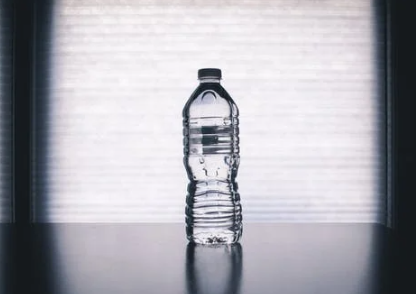 Did you know that people in the U.S. buy more bottled water than they do soda? Not everyone wants that soda sugar rush anymore, and bottled water is the healthy alternative. And let's face it, chlorinated tap water…that's not cool. Water is supposed to taste like water, nothing more.
People are hitting that healthy (water) bottle more and more, so read on to find all about bottled water and how to store it.

Types Of Bottled Water
What kind of Water Gets Bottled?
Pretty much every type!
"Bottled water" is a pretty vague term, and it doesn't matter where your water came from, as long as it's bottled, canned, or boxed according to FDA standards, it can be sold as "bottled water".
That means the water you bought might come from a deep, mysterious underground source. Or it can also mean that the company bought the water from a municipality and put a fancy label on it. The water can be carbonated or flat, mineral water, imported water, artesian well water…main thing: water in a bottle/can/box.
Plastic Bottled Water
If you think of a typical bottled water, chances are that you are picturing a standard, plastic PET water bottle. When PET (polyethylene terephthalate) got invented/patented at Dupont in 1973, it only took a few years for beverage companies to realize that this new bottle was as cheap to produce as it was strong.
Buyers liked it too, because it was light to carry, and durable. They could open it, take a few sips, and save the rest for later.
Now, almost 50 years after its invention, most bottled water is sold in PET bottles.
People appreciate that the PET bottles can be recycled, although it's sometimes difficult to figure out just how successfully. The beverage industry has always had an optimistic view of recycling plastic, but the actual success can depend on the municipality where you live, and how many people make sure their bottles end up in the recycling.
Recently, there have been some health concerns about microplastics in our environment and water supply. Scientists are still developing the bigger picture, but one study has found more microplastics in bottled water than tap water. It will be interesting to see how this research develops in the future.
How Do I Store Plastic Bottled Water?
Store plastic bottles of water in a cool, dark place. They shouldn't be stored near a place that might have chemicals in the air. Water stays goods indefinitely, and there isn't any best before date.
Why should you avoid warm places? It doesn't happen that often, but algae or mold can grow in an unopened bottle, and this mostly happens only if it sits for a long time in a warm place.
Why worry about chemicals in the air? The bottles are sealed very well - but a tiny amount of exchange does happen over time. If you store your water in the same room as your old paint cans, oil for the car, or whatever you have sitting around, some of the chemicals in the air can get into the water. We aren't talking overnight, this happens over a longer period of time. So find separate storage places for your bottled water and paint!
Non-Plastic Bottled Water
Glass Bottled Water
Glass bottles are especially used for more expensive bottled water brands, and in restaurants where the weight of the bottle isn't as important. Voss is one brand that uses glass bottles- though they mostly us plastic bottled in the U.S.
More expensive brands, such as Perrier, use distinctive glass bottle shapes and colors for their brand recognition. Let's face it, when you are in a restaurant, a glass bottle just seems to add some class to your drink!
Some people even prefer drinking from a glass bottle. For some it just feels better, and others feel the water tastes better than from a PET bottle.
You might wonder if glass bottles are better than plastic bottles of water? Well, PET plastic is a cheaper solution that doesn't break as easily as glass does, and they are a convenient solution for most people's daily lives. It's unlikely that glass will ever replace PET bottles.
Both glass and plastic are recyclable. Glass has the advantage that it can be recycled indefinitely, and PET can't. Glass still has an environmental cost, though, and still requires energy and non-renewable resources to be produced and recycled.
Canned Water
Some bottled waters are…canned waters. And just like plastic PET bottles, aluminum cans are lightweight and durable. Liquid Death is a canned water brand that is becoming popular at concerns.
Cans lose some convenience points in comparison to PET bottles because you can't close them once they've been opened. You can't take a few sips and chuck them into your bag for later, you've got to drink up. Maybe that's why they aren't nearly as popular for water as plastic bottles are.
Aluminum has the environmental advantage that it can be recycled indefinitely - once it's manufactured. That original manufacture is aluminum's problem, since it's not particularly environmentally friendly.
Canned water seems to have a good reputation with preppers that want to store water for 30 years or more. The companies in this market advertise extra purification steps and storage in cans as the best way for long-term storage. 
Boxed Water
Boxed water makes up a small portion of the bottled water market, and producers are trying to sell the packaging as the greenest way to buy bottled water.
The boxes themselves aren't heavy, and can be resealed. However, the caps and seals tend to be a little less durable than the standard PET bottles.
We can't definitely say if they are the best environmental option for selling bottled water. The materials in the box can be over 90% plant material, which sounds good. This plant base is modified, though, in such a way that means it can't be just composted. It needs to be recycled in an appropriate facility, and that's a problem. Those facilities don't exist in many parts of the U.S.A., and currently a lot of the boxes will end up in landfills.
How Long Can You Store Bottled Water?
What's the shelf life of bottled water? Bottled water doesn't have any organic material in it, so it doesn't go bad like food does. Bacteria and other microorganisms just don't find the things they need to live on in water - except water! In normal food, microorganisms can feast on sugars, fats, and organic molecules to grow and spoil the food, but those don't exist in water.
What about mineral water, can bacteria use the minerals to grow? Nope, they aren't a complete 'food' for bacteria or other microorganisms either, so mineral water doesn't spoil.
That's also why there isn't a set shelf life of water. It can stay perfectly fine for a long, indefinite amount of time if stored properly. The FDA does NOT require a 'Best Before' date on bottled water.
But remember to store your water properly! Think: cool and dark.
In the sun or in your hot car is NOT the right place for bottled water, for two reasons. Very rarely, bottled water can have algae or mold growth over time. That happens much more in warm and/or sunny conditions. Second, if the plastic is hot and getting hit by UV rays from sunlight, some chemicals from the bottle could leach into the water.
Is Bottled Water Safer Than Tap Water?
Both tap water and bottled water are considered very safe to drink, but is one safer than the other?
Both tap and bottled water are actually tested to the same standards, so technically both are equally safe to drink. Bottled water gets a bonus, though, since it is usually tested more often.
Tap water may also have chlorine or fluoride added to it, but bottled water usually doesn't. The levels of chlorine in tap water keep the water free from microorganisms, but not many people like the taste. Chlorine and fluoride are approved by the FDA as perfectly safe to drink at these levels. On the other hand, people often filter chlorinated water to make the taste more acceptable.
Bottled water is also often purified, but usually with methods other than chlorine that don't affect the taste. Many underground sources of bottled water don't need any purification at all, just regular testing.
If you live in a house or neighborhood with old pipes and old infrastructure, bottled water is the better choice. Really old pipes may leach chemicals, even lead, into your tap water.
Summary: Both tap and bottled water are tested to the same standards, so they should be equally safe. Bottled water has an advantage that there is no chlorine taste. You also don't have to worry that bottled water has passed through old pipes and picked up chemicals on the way to your tap.
At the very least, let taste be your guide: water should taste like water! Any kind of water with a metallic or chemical taste should not be drunk. Chlorine is considered a safe exception.
Bottled Water FAQ
Why Does My Bottled Water Taste Like Plastic?
Your water isn't supposed to taste like plastic.

If you just opened a new bottle of water and it tastes like plastic, then it probably sat in a warm or sunny place for a while. If you didn't leave the bottle in the sun, you should consider buying your water from a different store or a different brand.

If you like to reuse PET bottles and the water starts to taste like plastic, it's time to get a new bottle. Unopened bottles are sealed against the outside air and the plastic doesn't usually break down, but it's a different story when you reuse them. Then they get exposed to air, new water, maybe sunlight and heat...the plastic starts to break down with time. Get a new bottle.

Maybe you have a bottle that is supposed to be reusable? If your reusable bottle has water that tastes like plastic, consider buying another bottle made from another material. Naturally, you shouldn't leave any kind of plastic bottle laying directly in the sunlight. But generally, a plastic taste shows that the bottle has started to break down, so think about getting a new one from a more stable material.
Does Bottled Water Have Fluoride?
Most water has a very small, natural amount of fluoride in it, and bottled water is no exception.

When water flows and seeps into soil and rocks, it picks up minerals from them. One of those minerals is fluoride. If you are worried about fluoride in water, you should know that natural levels of fluoride in water are usually much, much less than what municipalities add to tap water to help prevent tooth decay.

If you want to know exactly how much fluoride is in your water, most large bottled water brands have a water quality report on their website. The complete report will list all the minerals they found in the water, including fluoride.