Our Top Pick
Our Top Product Picks
1
OUR TOP PICK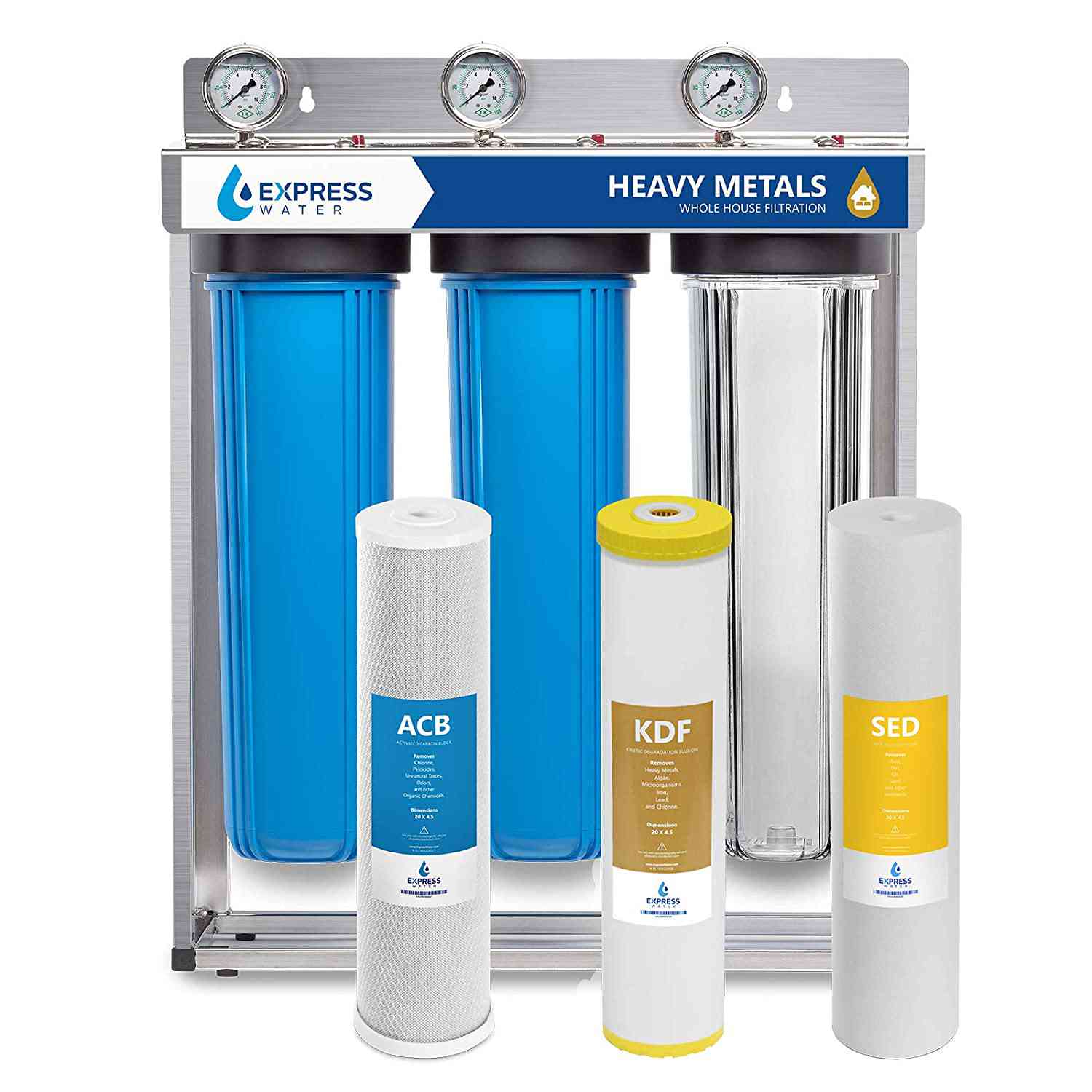 Express Water WH300SCKS
One of the best whole house water filters for removing metallic impurities, this product by Express Water is relatively easy on the budget. Its three-stage filtering mechanism is quite similar to Home Master's HMF3SDGFEC. The best part is that it removes toxins and heavy metals from the water naturally, without adding more chemicals. This highly-functional unit can remove up to 80 different types of contaminants, providing you with water in its purest form.
Check Price at Amazon
Pros
Effective 3-stage

water filtration system

High-quality material and durable construction

Does not waste water

Filters are quick and easy to replace

Fast water

flow rate

of 15 GPM
Cons
Water pressure

drops in some cases

Difficult installation
What Could've Been Better?
Considering how affordable this whole house water filter is, we couldn't find any deal-breakers in its functionality. However, we think you would like to know some critical reviews about this otherwise well-received product.
In some cases, the water flow rate has considerably decreased after passing through the second stage. Albeit not the case with all the customers, those who experienced it have not been able to pinpoint the root cause behind this drop.
Why Buy This Product?
1. Eliminates Chemicals And Heavy Metals
As mentioned before, WH300SCKS is equipped with three filters that churn out clean water for your everyday use. Here's a brief description of each filter and its functions.
Stage 1
The first step involves a sediment filter that removes chunks of coarse dust particles, sand, dirt, and more. These particles don't just contaminate the water but also cause blockages in your pipes, build-up on appliances, etc. This further shortens the lifespan of your appliances and calls for costly renewals and repairs.
Moreover, the sediment filter is constructed of food-grade polypropylene microfiber and consists of four layers that get rid of contaminants. While the outer layer traps larger particles, the inner layers eliminate impurities that are as tiny as just 5 microns. Together, these layers help remove the smallest of particles that can harm you and your family.
Stage 2
Next, the water is pushed through a Kinetic Degradation Fluxion (KDF) filter, which catches heavy metals that float in the water. Such metallic particles include iron, chlorine, chloramine, lead, sulfur, mercury, and so on.
The KDF filter is equipped with catalytic carbon and charged granules of copper and zinc, which absorb chemicals and prevent the breeding of micro-organisms. Moreover, it is sealed with a silicone ring and a thermally bonded cap which ensures durability.
Stage 3
The last stage is the Activated Carbon Block (ACB), which combats harmful chemicals from pesticides, herbicides, pharmaceuticals, and more. Such pollutants are dangerous for your health and lend a bad taste and odor to the water. Thus, this stage is essential for improving the overall quality and drinkability of water.
Since the ACB filter is made of laboratory vacuum heated carbon, its large surface area provides longer, uninterrupted filtration. This block is also sealed with a bonded cap and silicone seal.
2. High-Quality Materials
In addition to the three-layered filter, other components of this system are also made of high-quality 100% food-grade materials. If you're still doubtful about its quality, you may be relieved to know that this whole house filter is NSF/ANSI certified.
Overall, this unit is built to last with its ABS and PCE plastic and durable stainless freestanding mount.
3. Low Maintenance Filter
This water filtration system is designed to facilitate quick and easy maintenance. Simply twist the housings to open and drop the new filter. The three pressure release buttons further help in making the process even more convenient.
Also, the first stage filter is transparent, so you can keep an eye on it and check when replacement is due.
4. Fast Water Flow
The high-capacity triple-filter system ensures clean water without any drop in pressure. Similar to iSpring WGB32B and Home Master HMF3SDGFEC, this system also offers a uniform water flow rate of 15 GPM.
Depending on the quality of water and everyday usage, the life of the filter may vary. But on average, the filters can purify about 100,000 gallons of water, lasting over 6-12 months before replacement.
Moreover, this system is designed to save water as it requires no drainage.