Our Top Pick
Our Top Product Picks
1
OUR TOP PICK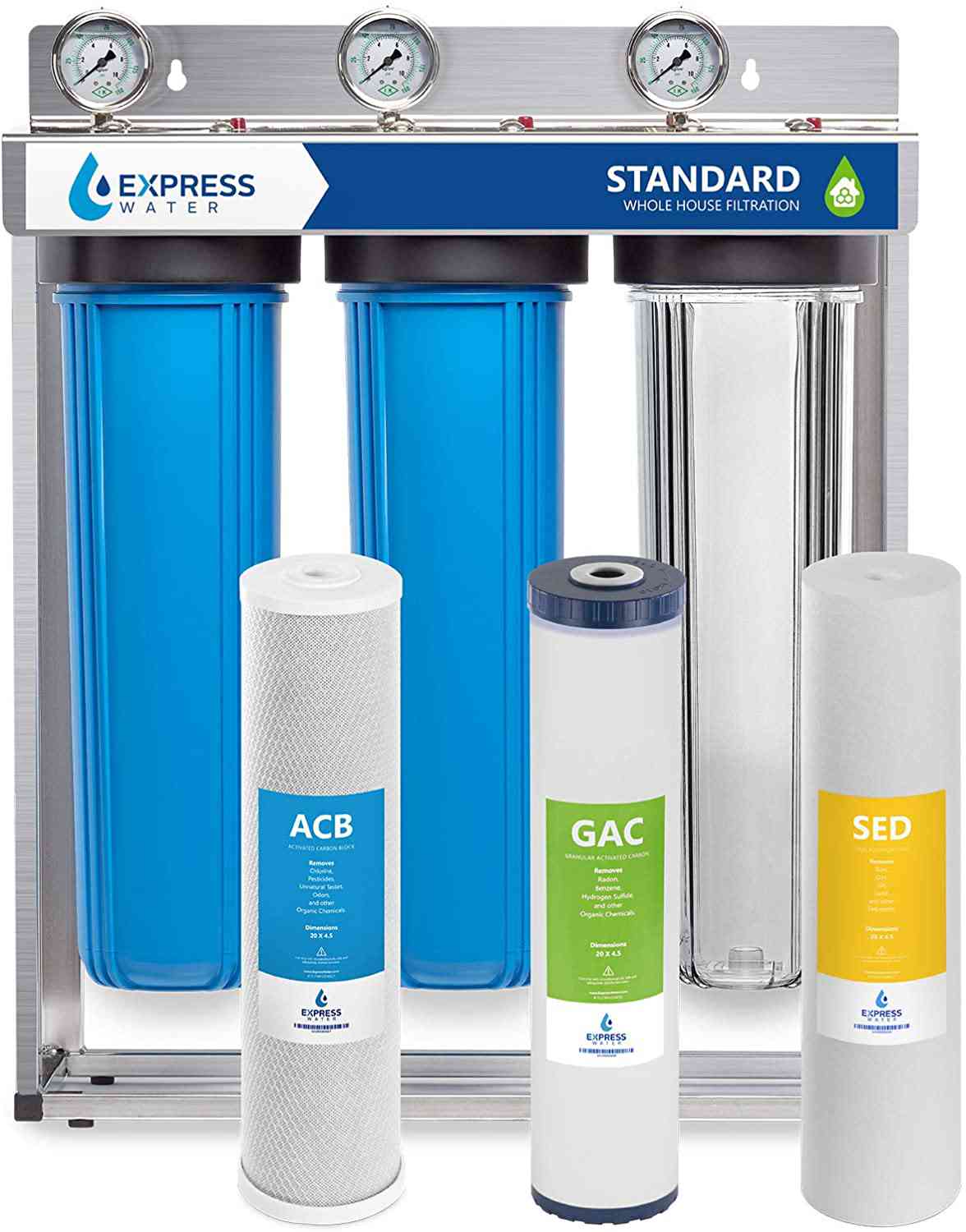 Express Water WH300SCGS
Although we have already mentioned a product from this brand, we couldn't end this list without mentioning another one of its top-notch units. This unit comes equipped with a sediment filter, a granular carbon filter, and a carbon block. These three stages elongate the filtration time and expel 52 types of water pollutants. But before we talk about this product, you must note that, like most of our recommendations on this list, it does not remove TDS.
Check Price at Amazon
Pros
Value for money

Eliminates 52 types of water contaminants

No drop in

water pressure

Easy and convenient replacement

Heavy-duty construction
Cons
Not effective against bacteria, sulfur, and hardening minerals

No instruction manual included
What Could've Been Better?
Like every other product, this one comes with its shortcomings.
The first major drawback would be the absence of a KDF filter. Due to this factor, the unit is not suitable for water that contains a high amount of bacteria and viruses. Additionally, some users have complained about its inefficiency in removing copper, sulfur, and hardening minerals.
Another letdown was the lack of proper installation instructions. The packaging does not include any manual, so you will have to resort to calling a plumber for help. But considering the fact that this filter system is the cheapest on the list, we can't expect to enjoy the best of both worlds!
Why Buy This Product?
1. Removes 52 Types Of Contaminants
Express Water claims that this filter removes up to 52 different types of impurities to provide fresh and clean water to its users. This is possible with its 3-stage filter described below-
Stage 1
The sediment filter forms the first level of filtration. It gets rid of coarse substances like sand, dust, debris, rust particles, and so on. The four layers within the sediment filter, built with precision-packed polypropylene microfiber, allow rigorous filtration and remove particles as small as 5 microns.
This multi-layered mechanism divides the filtration process, elongating the operating life of the system and preventing frequent replacements. Thus, you will enjoy filtered water for longer, uninterrupted intervals.
Stage 2
Next up is the Granular Activated Carbon (GAC) filter that sieves volatile organic chemicals, industrial solvents, and chlorine. These substances are not just bad for your health but also degrade the taste, odor, and look of the water. If you see cloudy, foul-smelling water running from the faucets, it is high time you invest in this whole house water filter.
Moreover, the GAC filter contains evenly spread carbon granules that enable maximum chemical absorption. Sealed with a thermal bonded cap and silicone ring, this filter promises long-lasting durability.
Stage 3
Lastly, the Activated Carbon Block (ACB) filter removes chlorine and other chemicals that lower water quality and drinkability. Its tightly packed carbon molecules provide intense filtration and long operating life. This filter is no different from the GAC stage in terms of durability.
2. Strong And Sturdy Materials
Thanks to its 100% food-grade ABS and PCE plastic construction, this water filtration system is tested and certified by NSF/ANSI standards. Other than that, each of the three housings is connected with industrial bonded flow connectors. Further, they are fitted to a stainless mount, which is reliable due to its heavy-duty construction.
3. High Capacity Filters For Fast Flow
It features sufficiently spacious filters which can purify up to 100,000 gallons of water before replacement. Its unique design provides high water pressure of up to 15 GPM at 45-80 PSI. So, even if you have uninvited guests staying over, you need not worry about any drop in pressure.
Furthermore, the filter does not drain any water, making it a relatively environment-friendly option.
4. Unique And Convenient Construction
On average, the filters will need a replacement after every 6-12 months, depending on your water consumption. Due to its efficient and straightforward design, WH300SCGS is pretty easy to maintain and replace. Its three accessible buttons help release pressure and remove the filter easily, while the pressure gauges facilitate convenient monitoring.
Moreover, the first stage or the sediment filter, is placed in a clear housing so you can determine the replacement time without disassembling the entire unit.
To wrap it up, you can choose to use the sturdy standing frame or install the filter without it. Depending on the amount of available space, you can customize the way you mount the product.