Our Top Pick
Our Top Product Picks
1
OUR TOP PICK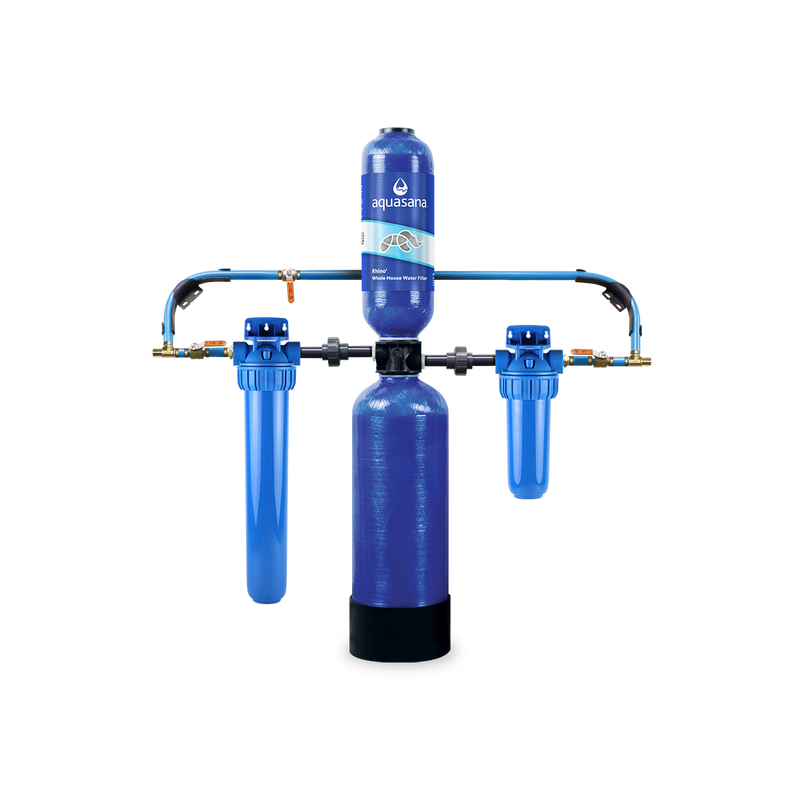 Aquasana 10-Year Whole House Water Filter
Like the previous recommendation, this high-performance filtration system by Aquasana is certified by an independent third party for the removal of 97% of chlorine. You can add a salt-free water conditioner, too, if you want to get rid of hardening chemicals. Since it is a salt-free system, you won't be causing any wastage. The filter can be installed at the main point of the water supply so that you can enjoy the goodness of clean water throughout your household.
Check Price at Amazon
Pros
Customization available

Lightweight and easy to maintain

Prevents build-up of bacteria and virus

Unique up-flow design

Constant water flow
Cons
Frequent filter replacement

Additional cost for upgrade
What Could've Been Better?
Aquasana has left no stone unturned in providing the best quality of water for you and your family. But there are a few faults we couldn't help but notice.
Straight off the bat, we have to talk about the frequency of filter replacements. Compared to other products on the list, this water filter needs a replacement within a shorter period. Also, the additional expenses of the add-on filters make the overall cost high.
Even with the pro-grade install kit, the installation process is not easy for beginners. It is best to call for a plumber or technician to help you out. On top of that, some customers have complained about missing parts in the kit.
Why Buy This Product?
1. Smart Design For Superior Filtration
Aquasana advertises its filter as an independently tested product that is equipped with strategically sequenced stages to ensure maximum purity. It actively removes chemicals that come from washed-off pesticides and herbicides. Even rust particles and other water-soluble heavy metals stand no chance with this high-quality water filter.
Its up-flow, dual tanks elongate the contact time between the water and the purifying filters. This vigorous filtration not only allows you to enjoy clean water but also prevents clogging and build-up. The brand specializes in all sorts of filtration products, so this unit is designed to allow customization by adding a conditioner, UV filter, and more.
Since this filter is not an RO system, it retains some essential minerals needed by the body. But if you are looking for a more robust water filtration system, you might want to look into other options. Overall, this whole house water filter is the best for improving the taste and consistency of water.
2. Low Maintenance And Easy Replacements
Maintaining this system by Aquasana is a no-brainer! All you have to do is replace the filters after a couple of months, depending on your water usage. If you plan to add the salt-free conditioner to the package, you won't have to deal with the hassle of refilling salt and cleaning tanks.
However, we recommend being very cautious with filter replacements. If you miss out on it, more dirt and contaminants will stock up on the filters, making the structures inadequate for purification. This will further increase your maintenance and repair costs.
3. Uniform Water Flow Rate
Offering the industry standard water pressure of 7 GPM, this unit is ideal for 1-3 bathrooms. Even on the busiest of days, the sufficiently large filters allow constant pressure while you do your chores.
4. Natural Tasting Water And Food
You can install this filtration unit at the main water supply to enjoy its benefits throughout your home, even the kitchen. Filtered water is known to enhance flavors and decrease cooking time. Moreover, no chemicals are added in the process of purification, thereby delivering only superior-quality, natural water.
5. Unique Bacteriostatic Media
The bacteriostatic media included in this whole house water filter is made of copper-zinc and mineral stone. This tank eliminates 97% of chloramine and other heavy metals, preventing the growth of bacteria and algae inside the system.
Moreover, you can opt for a UV filter add-on that kills bacteria and viruses like E.Coli. Of course, this will charge you some extra bucks, but prevention is better than cure in times of a pandemic.
6. Strong Yet Lightweight Materials
The tanks of this filter are made of HDTE (High Density, Tri-Extruded), food-grade material. Thus, the rugged unit is built to last while being lightweight enough for easy maintenance and replacements.
7. Additional Benefits
Since this filter is customizable, you can choose to add a water conditioner and a UV filter for all-round protection.
The salt-free conditioner crystalizes hardening minerals, making the water soft and preventing scale buildup. Investing in this 2-in-1 unit will remove harmful chemicals, soften the water, prevent muggy laundry, skin and hair damage, and more.