Our Top Pick
Our Top Product Picks
1
OUR TOP PICK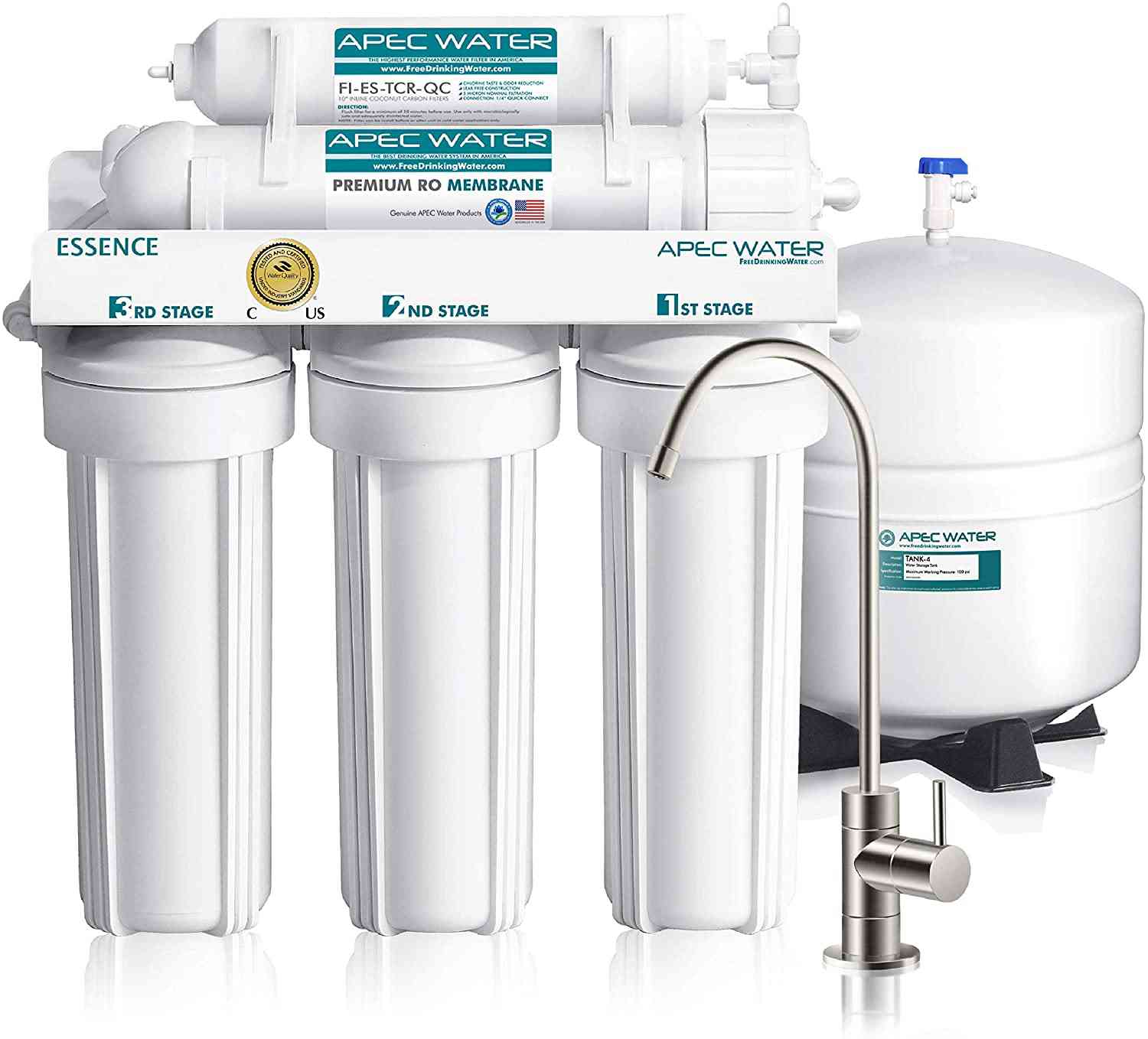 APEC Water Systems ROES-50
Promising superb quality with 20 years of experience, this 5-stage under sink water filter guarantees trouble-free operation. Equipped with a sediment filter, RO membrane, coconut carbon filter, and two carbon blocks, this unit eliminates more than 1,000 contaminants present in tap water and well water. Moreover, you will never have to worry about regular maintenance with its stainless steel teeth and O-ring, which provide leak-free protection. So, you can enjoy pure and superb tasting water with peace of mind.
Check Price at Amazon
Pros
5-stage filter removes more than 1,000 contaminants and

heavy metals

WQA certified quality and performance

High-quality fittings prevent leaks

Designer faucet with 360-degree rotation

Easy installation and maintenance
Cons
Wastes a lot of water

Produces trickling sound
What Could've Been Better?
While there aren't any major faults in this product, we noticed it drained quite a lot of water while filtering. However, wastage is a common issue with many other competing filtration units on the market, so there isn't much we can do to avoid it.
Another drawback would be the continuous operating noise. Although the filter, as a whole, does not produce any sound, the permeate pump and drainage system make a trickling sound that is too loud to ignore. This happens every time you get some water, and the reservoir gets refilled.
While this may not be a concern for many, we thought it is an important point to consider before making the purchase. If noisy systems are one of your pet peeves, you might want to look into other alternatives.
Why Buy This Product?
1. Premium Quality 5-stage Filtration System
This 5-stage under sink water filter combines the best of human expertise and state-of-the-art technology to remove 99% of water pollutants, including chlorine, VOCs, lead, heavy metals, and more. Besides rejecting more than 1,000 such particles, the filter effectively eliminates foul taste and odor-inducing contaminants.
The first step of this multi-level under sink unit is the sediment filter that rejects dust particles, debris, rust, and more. Then, the water is filtered by the double carbon block, which further increases the contact time to get rid of most of the chemicals to ensure purity and cleanliness at its best. 
Next up is the high-rejection RO membrane. As the name suggests, it discards smaller contaminants to ensure the purest water quality for you and your family. Lastly, the refining coconut carbon filter eliminates the rest of the impurities, which could lend a bad taste to the water.
Altogether, these filtration stages guarantee safe and clean water that tastes crisp and refreshing.
2. WQA Certified System
The premium, long-lasting filters, durable materials, sturdy structure, and contaminant removal process are certified by the WQA system. So, the gold seal on this under sink water filter speaks for its top-notch, reliable performance. Whether your supply contains city water or well water, this filter can handle all of it and safeguard your family's health.
Moreover, the two-year extended warranty is quite a relief, making this unit a valuable investment.
 3. 100% Lead-free Designer Faucet
The modern design faucet looks and feels premium in every aspect. Its 100% lead-free body with a brushed nickel finish ensures a spotless look for years to come. Its sleek high spout adds a stylish touch to your sink while providing maximum convenience with its 360-degree rotation.
Once you've installed the filtration unit and faucet, you can rest assured of a clean and safe water supply, minus maintenance issues and expenses.
4. Leak-free Fittings Protection
Talking of maintenance, the high-quality leak-free fittings are equipped with stainless steel teeth for a solid grip to prevent potential blunders. The special O-ring adds to the protection with a leak-proof seal. So, you will never have to rely on additional clipping parts and water leak detectors.
5. Easy Installation and Maintenance
Thanks to the detailed instructions in the user manual, you will have no issues installing this system all by yourself. It could take some time for beginners to figure things out, so they can refer to the step-by-step tutorial videos available online.
Other than that, the package also contains housing wrenches, feed water adaptors, drain saddles, and much more to ease out the installation process. Hence, APEC stays true to its motto, "Just set it and forget it," as this filtration system is low maintenance, preventing you from incurring expenses in the long run.
6. Prompt Customer Support
Despite the easy installation system, some customers did end up getting stuck at some steps. Much to their relief, the customer care team was ever-ready to clear their queries and help them out. You can either reach them by mail or on call, and they will be quick to respond.