Our Top Pick
Our Top Product Picks
1
OUR TOP PICK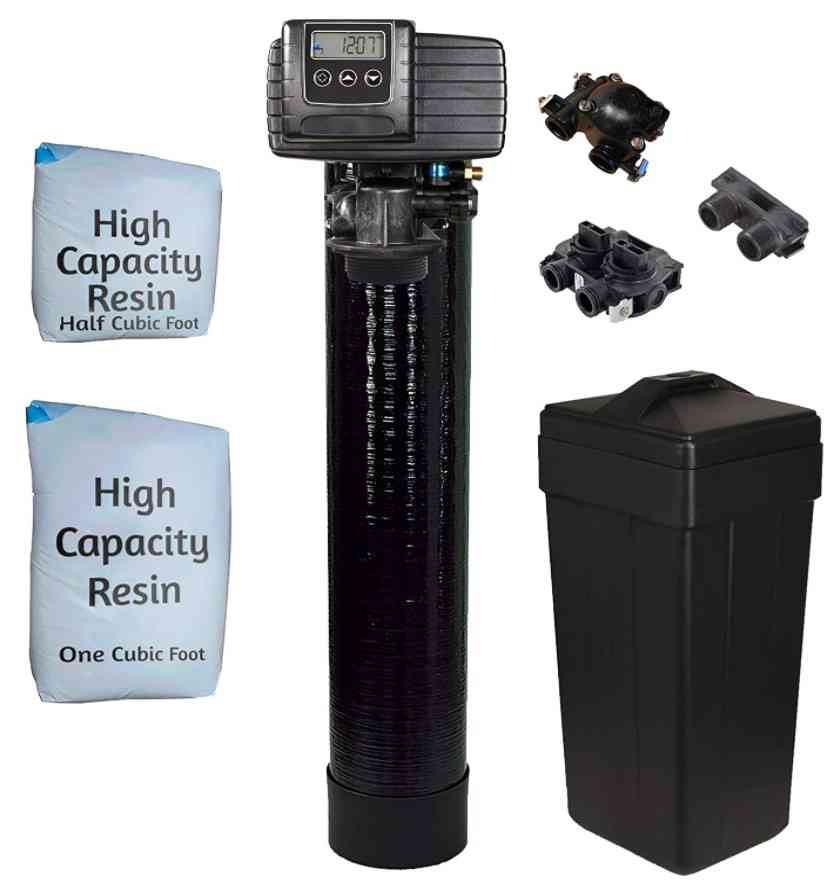 PENTAIR WS48-56SXT
One of the most popular picks from the brand, this electronic water softener regenerates the perfect amount of water required without causing waste. Treating hard water will be a breeze with its fleck water softener and user-friendly digital controls. In fact, the best feature is its low maintenance automated system. Overall, along with its 10-year warranty, this product is reliable and durable without burning a hole in your pocket.
Check Price at Amazon
Pros
Programmable regeneration

Memory backup during power cuts

Water and money-saving system

Accurate flow meter produces timely regeneration cycles

Easy-to-use backlit LCD
Cons
No iron filter

Large size
What Could've Been Better?
Compared to the first product, the WS48-56SXT is devoid of a dedicated iron filter. So, although the unit will soften water, you need a separate filtration system along with it.
Due to its large size, you need to ensure that this whole house water softener will fit in your pipeline before making the purchase. After all, you wouldn't want to end up buying a water softening system that's too big for you to use.
Lastly, although we found this product rather easy to install, some users have complained about it being difficult. So, this factor could be subjective.
Why Buy This Product?
1. Impressive Ion Exchange Process
This water softening system by Pentair uses an ion exchange process to remove calcium and magnesium salts efficiently. Since the build-up of scale deteriorates pipelines and causes plumbing problems, investing in this product can save you from years of expensive repair and maintenance bills.
2. Various Modes Of Operation
Much like our previous recommendation, the WS48-56SXT allows users to choose from the four modes of operation mentioned earlier. This ensures a convenient and customizable user experience.
3. Water Saving Regeneration
Unlike most softening systems, this unit accurately measures and regenerates only the amount of water needed – nothing more and nothing less. This saves a lot of water from getting wasted, thereby saving money in the long run. So, you can do your bit in the following sustainability with this product.
Moreover, the digital meter can be programmed to regenerate the system as and when needed or after every fortnight.
4. Turbine Electronic Flow Meter
This water softening system is equipped with a compact meter with fewer moving parts. It shows an accurate measurement of water flow and reduces the chances of breakage.
5. Handy Backlit LCD Display
Its digital display clearly specifies the amount of remaining hard water, and the backlight makes it convenient to read at night. In addition to that, the digital panel sports touchpad buttons that ensure a user-friendly experience.
6. 48-Hour Memory Backup
Similar to the IRONPRO2, this unit also retains the data and settings for 48 hours in case of a power cut or accidental unplugging. This implies you will not have to fret about resetting the system after electricity is restored.
7. Additional Features
For better efficiency, the regeneration cycle performs one slow and one rapid backwash. Furthermore, the brine tank prevents overflow of water with its safety float and sports an outlet to be linked to the backwash drain.
8. Easy Installation
Well, relatively easier. Of course, if you are a beginner, you might take longer to figure out the installation process. However, unlike most systems, professional intervention is not a compulsion when installing this unit. With its adequate user manual, you can successfully finish the task within two hours.