Our Top Pick
Our Top Product Picks
1
OUR TOP PICK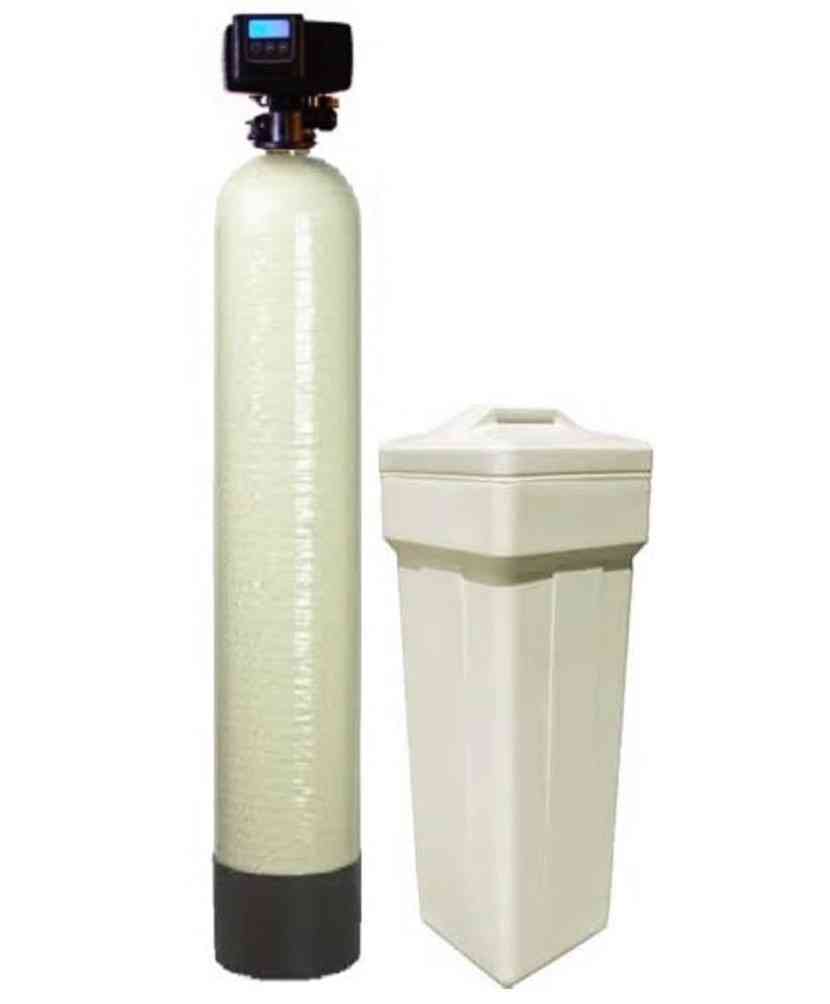 DuraWater 64k-56sxt-10al
With an upgraded 10% cross-linked water softener resin, this one from DuraWater is a premium product. Its 64,000 grain capacity enables it to remove all sorts of water-hardening minerals. Being an advanced and easy-to-use system, once you complete the installation process, you can rest assured that the Fleck 5600 SXT head will do its job. Moreover, the brand promises zero compromises in the quality of materials used. So, you can expect this model to last for years.
Check Price at Amazon
Pros
Upgraded resin mesh

Generous grain capacity

Easy-to-use LCD screen

Adjustable regeneration cycle

Beginner-friendly installation and programming
What Could've Been Better?
Right off the bat, when compared to other water softeners, this unit is pretty expensive. On top of that, the fact that it does not include a dedicated iron filter is disappointing. So, if your water contains high iron content, this product is not for you.
Moreover, some users have complained about receiving defective pieces and not being able to return them. Although a very subjective factor, some may even find it challenging to install and program.
Of course, none of these drawbacks is a deal-breaker, but spending this much on a flawed product does not sound like the best deal.
Why Buy This Product?
1. High Grain Capacity
With its generous 64,000 grain ion replacement, this electronic water softener is perfect for a family of 3-4 members. Its grain capacity is sufficient for moderately hard water as it removes calcium, magnesium, some iron deposits, along with sand and sediment. By efficiently softening water, this unit ensures well-functioning pipes, smooth skin and hair, and clean, odorless laundry.
If the hardness level of water is very high, you might want to opt for the 80,000 grain variant of the same brand. Other size options include 24,000 GPM, 32,000 GPM, 40,000 GPM, and 48,000 GPM. If your average water consumption is low and the water supply does not contain many hard minerals, you can choose the smaller size options.
2. User-Friendly Digital Screen
As mentioned earlier, a digital user panel makes it much easier to go through the settings and adjust them according to your needs. This product also boasts a similar digital display along with touchpad controls. Hence, you can conveniently customize the regeneration cycle according to your water usage.
Also, this digital display holds a lot of importance while recognizing error codes and troubleshooting accordingly.
3. Customizable Regeneration Cycle
By now, we've understood how useful customization can be. From the clear and convenient digital display, you can easily toggle through the settings and change the regeneration cycle as and when required.
However, it does not have any pre-programmed settings for regeneration. On average, the regeneration process uses 8 lbs of salt and 60 gallons of water, which may vary according to your custom settings.
4. DIY Installation Instruction Manua
l
Since this system comes with a descriptive installation guide, you will not have to hire the services of a plumber, thereby saving on the installation cost. While facing difficulties, you can call the friendly customer care team, and they will guide you through the process.
Programming the system is not a hassle either. With a helping hand and required tools, you can easily do the task within an hour. Right from installation to programming, this unit is hassle-free and user-friendly in the real sense!