Our Top Pick
Our Top Product Picks
1
OUR TOP PICK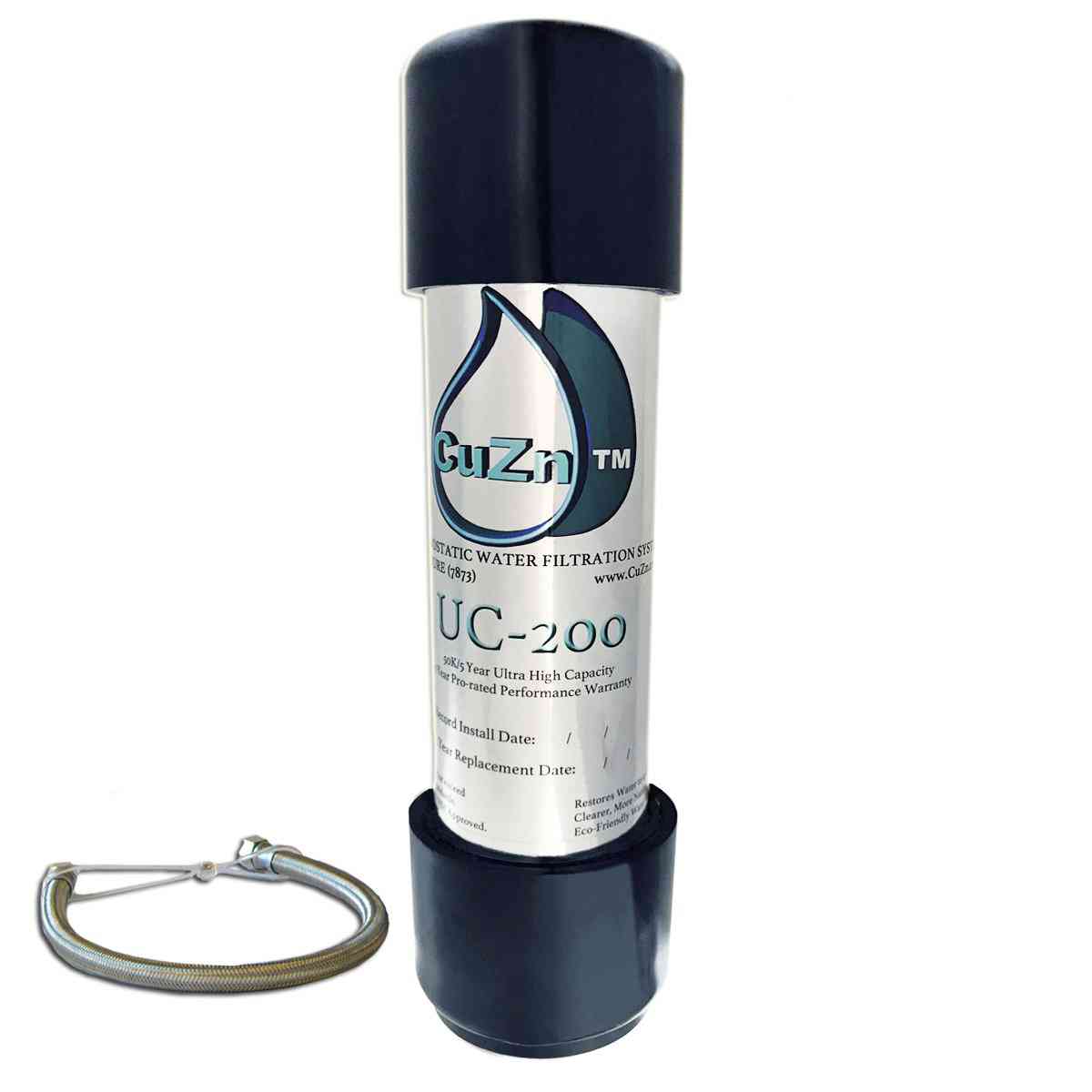 CuZn UC-200 Under Counter Water Filter
Like the previous recommendation, this high-performance filtration system by Aquasana is certified by an independent third party for the removal of 97% of chlorine. You can add a salt-free water conditioner, too, if you want to get rid of hardening chemicals. Since it is a salt-free system, you won't be causing any wastage. The filter can be installed at the main point of the water supply so that you can enjoy the goodness of clean water throughout your household.
Check Price at Amazon
Pros
Ultra-high capacity makes it suitable for large families

5-year lifespan

3-step filtration process removes harmful pollutants

Convenient and customizable installation kit

Certified by NSF standards
Cons
Not recommended for well water

Heavy
What Could've Been Better?
Although this small but sturdy filter unit gets rid of many harmful substances, we recommend it for chlorinated city water only. This is because it misses out on other pollutants, which are primarily found in well water and hard water.
For instance, if your water supply contains high volumes of chloramine, this filter is not for you. Instead, you can check out other units by CuZn, which are specifically meant for chloramine removal.
Bacteria and germs form another major chunk of water-polluting particles, which do not get eliminated with this unit since there is no RO membrane. Lastly, do not expect your water supply to be free from TDS (total dissolved solids) as well.
Other than its inability to remove these specific contaminants, the unit is quite bulky for an under sink water filter. So, even though installation is easy, you will need a helping hand to fit it under your sink or counter.
Why Buy This Product?
1. High Capacity Filter
Big surprises come in small packages, and this under counter water filter proves it. Despite its compact size, its 50,000-gallon ultra high-capacity cartridge will catch you off-guard. 
While most under sink water filters require regular maintenance and replacements due to their relatively small size, this unit stands out. Suitable for large families, it can easily serve your needs for at least five years before requiring a replacement.
Since this unit does not include a filter life indicator, you will have to manually make a note of the date of installation and years of use. Even so, its long lifespan and high capacity make it a convenient investment. 
2. 5-year Prorated Performance Warranty
Since the brand claims a long lifespan, it backs the quality of its product with a performance warranty. If the cartridge or any part of the filter fails within the 5-year warranty period, simply get in touch with the customer care team and get a replacement. Many reviewers swear by the excellent customer service offered by the brand.
Another point to note is that CuZn does not have replacement filters for sale. So, once your cartridge expires, you will have to purchase the water filter again. While it may sound like a recurring expense, it is actually more cost-effective in the long run. Hence, it is a small price to pay for your family's health and well-being.
3. Three-stage Under Sink Water Filter
Unlike the previous products on the list, this under sink filter by CuZn is equipped with just three stages. But it does not compromise on its filtration performance.
First is the micro-sediment membrane that eliminates relatively larger chunks of dust, debris, silt, and rust. Usually, such contaminants are visibly present in water, making it look cloudy. After that, the water is pushed through the coconut shell carbon filter, which removes heavy metals and VOCs, including chlorine. This stage mainly removes the chemical taste from water.
The last stage is the KDF-55 which filters out bacteria and mold. Considering the ongoing pandemic, this filter helps remove harmful toxins that may be present in municipal water. 
Although the UC-200 effectively removes most types of water pollutants, it does not remove calcium and limescale. So, if your water supply contains hardening particles, you will need a separate water softener.
4. Simple Installation Process
The installation process is a cakewalk, so you won't be needing a professional plumber. The packaging includes all the tools and fittings required for installation, and the entire process takes less than an hour.
In case you want filtered water through the kitchen faucet or have any special requirements, the company is ready to customize your kit. This implies, your packaging will contain components specifically designed for your household. No wonder CuZn has such a great reputation in terms of customer service.
5. NSF Certified Product
This water filtration system adheres to NSF standards 42 and 61, which ensure the quality of the product and the purity of water it provides. Thanks to its high-quality build and components, the appearance, taste, and smell of municipal water are significantly improved. 
Thus, once the filter is installed, you can enjoy safe drinking water for five years without worrying about frequent repairs and maintenance.